The vast majority of drivers have the means to stay connected to the information systems of motor carriers and freight brokers, inside or outside of the cab. All it takes is a smartphone.
With the large selection of cloud-based apps in the Google Play and Apple App stores, motor carriers and brokers can quickly mobilize their IT systems and automate routine communications and transactions with drivers.
From tracking shipments to giving drivers a single sign-on experience for everything related to their jobs, chances are there's an app for that.
Companion apps
Some fleets are now using mobile driver apps as a companion to their existing in-cab mobile computing platform. Such is the case with PeopleNet's Connected Driver app.
The app is free for fleets that use PeopleNet's in-cab computing platform. While outside the cab, a driver can view messages, see the number of miles he has completed on the current load, his current miles per gallon, and the time remaining on his hours-of-service duty cycle, among other details, says Randy Boyles, PeopleNet's senior vice president of mobility.
PeopleNet will be bringing other partners to the Connected Driver app to exchange data and expand its functionality, he says.
Trailer tracking provider SkyBitz plans to release a mobile driver app within the next 60 days. Drivers will be able to use the app to locate a trailer in a drop yard, see its maintenance status, and verify that it is empty or loaded as the case may be, says Henry Popplewell, president of SkyBitz.
Automating the shipment lifecycle
Shipment tracking is the most common feature of mobile driver apps. Owner operators and small company drivers are able to share their locations with freight brokers and motor carriers automatically, saving time for all parties involved in freight transactions.
Rather than visit websites to locate shipments and interact with the information coming from mobile driver apps, carriers and brokers would prefer to conduct business within their native transportation management software (TMS) systems.
To sidestep the costs and time for integrating its mobile app with TMS systems, software developer uFollowit created a new service called TMS Glue. The service makes use of web robot technology to enter shipment locations, images of delivery documents, and other information captured by the uFollowit mobile app into the TMS systems of motor carriers and brokers automatically.
TMS Glue logs into a carrier or broker's TMS system and updates the appropriate data fields, just as a human would do, says Danny Dever, vice president of sales.
Brokers can also use the uFollowit app to send PDF documents to owner operators for rate confirmations. Drivers can touch and sign the document using the mobile app to initiate a freight transaction, he says.
The company is planning another paperless feature for bills-of-lading (BOL) called Mobile Trucker Exchange to eliminate the possibility of a wrong driver picking up a load.
When creating a BOL, a shipper would send electronic credentials to a specific carrier or broker, who in turn gives credentials to the driver to receive the BOL in the uFollowit app. In this manner, only the driver who is assigned to the load has the BOL, and can present it to the shipper or consignee on their mobile device, he says.
Deeper TMS integration
Many TMS software developers have developed their own apps as well as platforms that support a variety of third-party apps to send and receive information from drivers.
Carrier Logistics (CLI), for instance, has a dispatch and accounting software for motor carriers called FACTS that supports a mobile workflow. FACTS integrates with third party apps to receive document images and electronic signatures to eliminate the flow of paper into the office, says Ben Weisson, vice president of product for CLI.
Perhaps the most popular driver feature in a number of mobile apps is image capture. By submitting a signed delivery receipt minutes after delivery, drivers can get paid faster.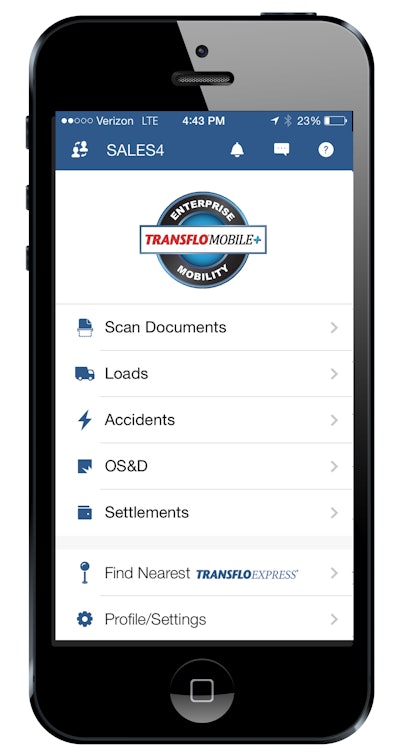 Image capture has always been a mainstay of the Transflo Mobile+ app from Pegasus TransTech. Subsequent updates have included a number of integrated TMS and trip-planning features for drivers. One option lets fleets identify approved fuel locations on driver route, highlighted with color-coded pins.
Another trip-planning tool in Transflo Mobile+ can give drivers one-click access to a satellite map view of where the trailer they are to pick up is located. The location of the trailer is pinpointed at a customer's yard, for example, eliminating the time drivers waste searching.
Corporate or third-party websites that fleets may use for driver training, access to payroll and settlement information and more can be accessed directly by drivers from the Transflo Mobile+ app, says Peter Rhode, director of professional services for Pegasus TransTech.
When drivers click on a Settlement tab in the app, for instance, they can view payroll and human resource information provided through integration with a TMS or third-party application.
Similarly, by clicking a Feedback tab in Transflo Mobile+, drivers can view their performance information for fuel efficiency, safety and other areas through a real-time interface with telematics and other external applications, he says.
Recent developments in mobility give small transportation companies an economical way to deploy new functions to automate routine communications and compete in technology with much larger firms in the minds of their customers and drivers.