Editor's note: This post is part of CCJ's ongoing coverage of the launch of the 2018 Freightliner Cascadia, unveiled Wednesday. Click here to see CCJ's coverage of the tractor's unveiling.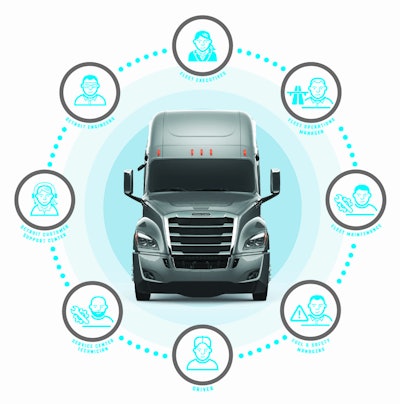 Freightliner's new Cascadia for model year 2018 will also receive an updated Detroit Connect platform that includes analytic capabilities.
Detroit Connect Analytics, part of the Detroit Connect suite of connected vehicle services, provides customers with insights about their vehicles in order to help influence business decisions with data from the trucks themselves.
Matt Pfaffenbach, director of connectivity for Daimler Trucks North America (DTNA), says Analytics takes traditional telematics a step further by taking the data Detroit Connect gathers and creating easily digestible information about the truck's performance and recommendations for improving vehicle and fleet performance.
Kary Schaefer, DTNA general manager of product marketing and strategy, says the data can be stripped out by trip, over the lifetime of the truck or over the entire fleet, giving fleet managers information on each truck's performance and identifying which trucks – or drivers – are performing at, below or above acceptable levels.
Accessible via a dedicated section of the new Detroit Connect portal, Analytics provides on- demand, automated fuel efficiency and safety analysis and reports featuring insights from Detroit and DTNA engineers. Analytics identifies behaviors, trends, root causes and key insights, Pfaffenbach says, on fuel consumption and safety performance data across the fleet.
"What it allows you to do is identify outliers," Schaefer adds, "and you can use that information to see what they are, and you have the data that allows you to more quickly implement a solution."
Fuel efficiency performance data analyzed includes engine speed, idle time, cruise control, engine power, integrated powertrain performance and driver interaction.
The safety data is collected from all available safety systems, including the Detroit Assurance safety system, and includes collision mitigation braking, lane departure warning, distance violations and speed violations.
Detroit Connect Analytics will be included within different service option packages with the new Cascadia that will deliver the fuel efficiency features only or both fuel efficiency and safety features. It will be available for use with the new Cascadia beginning early 2017 and available with other Freightliner and Western Star models later next year.