CCJ's Indicators rounds up the latest reports on trucking business indicators on rates, freight, equipment, the economy and more.
---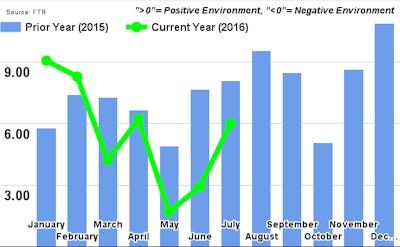 Market conditions for trucking companies bounced upward in July, according to the latest Trucking Conditions Index from FTR. The index's higher reading reflects "improved market prospects" for carriers, FTR says, stemming from better growth in the U.S. economy.
As the firm has noted in recent years, regulations set to take effect next year should tighten the industry's capacity and push the index higher, equating to better leverage for carriers in rate negotiations.
"The freight market is doing slightly better than just treading water, but there is still a disconnect between activity in the spot and contract markets," says FTR COO Jonathan Starks. "This is a result of the slow growth environment that we are in right now. You use your contract carriers whenever you can. There just hasn't been enough extra freight to spill over into the spot markets. Plus, shippers were able to use the big drops in spot rates to help put pressure on on their contract carriers. I believe that those conditions will soon be turning, especially for van freight."
Starks said outlook for flatbed carriers, however, isn't as bright. "The big reductions in oilfield activity has continued to put too much carrier capacity back into the spot market, and pricing is still weak for this segment. Until oil prices move higher or housing and business investment rally, the long-haul flatbed market is going to continue to struggle for volumes and rates."