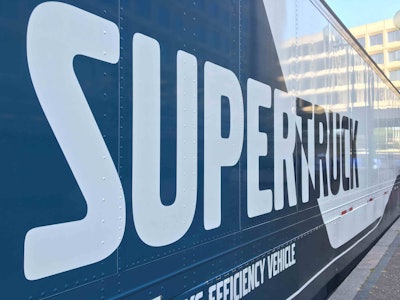 Volvo Trucks North America unveiled Tuesday in Washington D.C. the fruits of its SuperTruck program, capping a five year development project that ultimately eclipsed its freight efficiency benchmarks by more than 75 percent.
Through a combination of advanced aerodynamics, vehicle and powertrain technologies, the Swedish-engineered SuperTruck achieved a freight efficiency improvement of 88 percent – exceeding the 50 percent improvement goal set by the U.S. Department of Energy (DOE) SuperTruck program.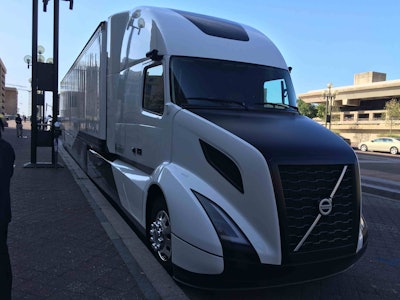 The tractor-trailer concept combination vehicle also boosted fuel efficiency by 70 percent, exceeding its 12 miles per gallon target. Some test runs showed more than 13 miles per gallon and powertrain brake thermal efficiency reaching 50 percent. The baseline for thermal efficiency is about 42 percent, meaning SuperTruck converts about 8 percent more of its fuel to usable power.
While SuperTruck itself will likely never reach production, many of the technologies implemented during the project are already on the highway.
The 2016 VNL models feature a revised bumper design that was developed by the project and the 2016 VNL 630 and 670 each got a flared chassis faring. Also for 2016, the VNL 670 received a more aerodynamic roof profile. These changes in design, Göran Nyberg, president of Volvo Trucks North America says, led to 3.5 percent fuel economy.
For 2017, SuperTruck led technologies will spearhead much of Volvo's 2017 powertrain including the "wave" piston, a one-box after treatment system, a common rail fuel injection and turbo compounding option for the D13. All told, Nyberg says this accounts for up to a 6.5 percent boost in fuel efficiency.
"We looked at the Super Truck project as a knowledge accelerator," adds Nyberg. "What learnings could we take out of the project to bring it to our customer?"
"As much went into [SuperTruck] engine redesign as did the truck redesign," says Pascal Amar, principal investigator for the project. "Every part was redesigned, [or] optimized if there was room to optimize. All these technologies were studied, evaluated and tweaked [on SuperTruck]."
Designed from the rear forward
SuperTruck was designed for the "trailers of tomorrow" but Amar says Volvo didn't focus on alternative composites or trailer designs, rather honing attentions on boosting aero dynamics on a common 53-foot design.
"Interactions between trailer and tractor are a lot more complex than we thought they were," Amar says. "We realized 5 or 10 years out that trailers would look a little different, so we started [design] from the back of the truck."
Amar says the group focused on gap, tail, roof and skirt fairings and how the air interacted with them while moving down the sides of the combination.
"Once we had the most aerodynamic trailer we could find, we moved on to the tractor," he says, noting the end result was a combination unit that provided 40 percent less drag.
Exterior design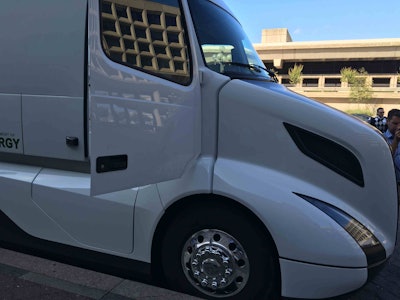 Volvo's aerodynamic SuperTruck has a shorter front end than conventional trucks on the road today, and the hood features a sharp downward slope. Lightweight fairings run the length of the tractor and trailer, and cameras have replaced rearview mirrors – a small detail that offered about a 1.5 percent efficiency improvement.
Volvo redesigned the chassis using almost entirely aluminum, which halved the chassis weight and contributed to an overall tractor-trailer weight reduction of 3,200 pounds.
Amar says designers found through the development process that a low-slung bumper designed to force air underneath the truck and trailer didn't provide much benefit. In turn, engineers then focused on designs that threw air around the tractor and side fairing of the trailer.
The SuperTruck concept vehicle also features top-of-cab solar panels, which provide power to the battery and interior lights. A fully-integrated hotel load power system provides temperature control and power for 14 hours without idling or depleting the batteries.
While Nyberg says the VNL "body in white" was mostly maintained in order to save time and ensure structural integrity, everything else – including the front end, the cab exterior pieces, the chassis fairing and the roof – were completely redesigned to maximize the aerodynamics of the tractor-trailer combination.
While designers wanted to stick with the cab's existing structural architecture, SuperTruck's cab sits three inches taller than a traditional VNL and the cab is moved forward about 8 inches. Bunk windows, which Amar says were a source of lost heating and cooling, are gone.
SuperTruck power train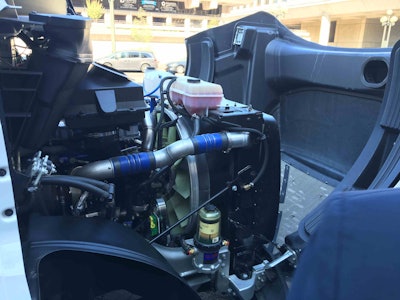 An enhanced version of Volvo's I-See, a new feature that memorizes routes and uses that knowledge to optimize cruise speed and keep the I-shift automated manual transmission in the most fuel-efficient gear possible, was an integral part of the fuel efficiency gains seen during SuperTruck on-road testing.
Another key part of the overall efficiency gain is the downsized 425 horsepower Volvo D11 engine, which features advanced fuel injection, cooling, oil and turbo-charging systems, as well as new "wave" pistons and other improvements.
The SuperTruck powertrain includes a complex Rankine waste-heat recovery system, which converts heat normally wasted in exhaust into torque, boosting fuel economy by helping to power the vehicle.
Performance with purpose
Nyberg says it was Volvo's goal to boost the efficiency of the truck using technologies that could eventually rollout out into the marketplace.
"The cost of capital will always drive the solution," he adds. "We wanted to meet the targets with technologies that, realistically, we could commercialize on tractors going forward."
For example, while other SuperTruck participants prominently featured some type of hybrid system, Amar says Volvo didn't think it was worth the money or effort. Also, working with suppliers and academic partners, the team explored the performance and safety of a number of lightweight materials. While some of these, like recycled carbon fiber, were not used in the SuperTruck, Armal says the knowledge gained in material science will be applied to future programs.
SuperTruck: The Sequel
Volvo's SuperTruck gains were made against a 2009 base model VNL that averaged 7 miles per gallon and the company was charged by the DOE with boosting freight efficiency by 50 percent.
After exceeding that goal, the DOE selected the Volvo to participate in its SuperTruck II program, which will target a 100 percent improvement on a ton-mile-per-gallon basis, and a powertrain capable of 55 percent brake thermal efficiency over the 2009 baseline.
U.S. Secretary of Energy Dr. Ernest Moniz says the goal of the SuperTruck program, and its millions of dollars in grants, is to accelerate adoption of efficient technologies that can improve both emissions and freight efficiency.
"We're still working on SuperTruck," Amar says. "The testing hasn't stopped, despite the fact the DOE contract ended in June."
SuperTruckII is expected to include light-weighting technologies and focus some on driver efficiencies as Volvo looks to squeeze even more efficiency from the most efficient package the company has ever produced.
"There aren't any low hanging fruits any more," Nyberg says.
"We've generated so much more innovation through the project," Amar says, "it just keeps on going."