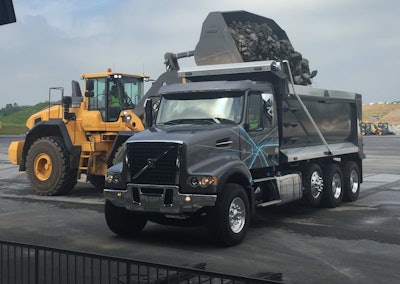 Lower volumes in Volvo Group's truck business fell in all markets except Europe in the third quarter of the year, but the company posted improved profitability Friday morning despite sluggish sales.
Global sales hit $7.7 billion for the third quarter.
"The decrease was primarily an effect of the slowdown in the North American truck market, which was partly counterbalanced by improving demand for the group's products in Europe," the company said in its earnings report, noting the need to take down North American dealer inventories.
The makers of Mack and Volvo branded trucks reported total deliveries of trucks decreased by 13 percent. The truck business continued to improve its profitability and the adjusted operating margin increased to 8.2 percent despite the lower volume.
Retail deliveries in North America fell 19 percent through September compared to 2015.
"Virtually the entire decline was registered in the highway tractor segments," the company says. "It is expected that new retail truck deliveries for North America will finish at around 240,000 for 2016 and come down to 215,000 in 2017."
In North America order intake declined 37 percent (6,764 units versus 10,745) compared to the same quarter last year and deliveries fell 46 percent in total, caused by dealers focusing on reducing inventories.
Production in the Group's North American manufacturing system was lowered in the quarter and will be further reduced in the fourth quarter to allow for further inventory reduction at dealers, Volvo Group says.