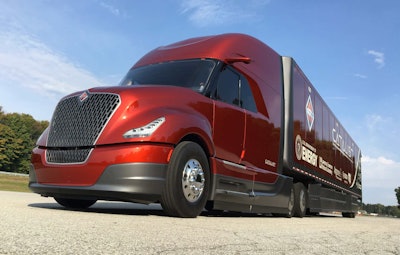 In 2010, the Department of Energy (DOE) launched its SuperTruck initiative to improve heavy-duty truck freight efficiency by 50 percent and poured more than $115 million into the project.
Trucking heavyweights like Cummins, Peterbilt, Freightliner, Navistar and Volvo each lined up with matching investments and goals of shaving miles per gallon and bumping engine and aero efficiencies.
Recently, I was able to ride along with Dean Opperman, Navistar chief engineer and pilot of the company's SuperTruck, CatalIST. The truck is built on the company's ProStar but aerodynamic enhancements erase most of the ProStar's visibly obvious traits. The company used a plastic polymer for the windshield that gives it a more aerodynamic, wrap-around shape. Things like side mirrors – replaced by cameras and monitors – and door handles have been eliminated.
Opperman says the truck has already hit 13 mpg in highway tests thanks to things like heat and kinetic energy recovery technologies. CatalIST achieved a freight efficiency improvement of 104 percent – more than double the 50 percent goal set by the DOE for the SuperTruck program.
The trailer is outfitted with three solar panels on its roof that can generate more energy than the truck actually needs, and the added power comes in handy when the truck comes to a full stop. The engine shuts off when CatalIST comes to a full stop and restarts when the driver takes their foot off the brake – a feature commonly known in the passenger car theatre as start-stop.
When the truck shuts off, the truck's HVAC uses the energy stored and supplied by the solar panels. With enough sunlight, the 48 volt sun-powered system will generate more energy than the HVAC system needs to function.
"You've probably noticed in a passenger car that, a lot of times, when the start-stop kicks in, the air conditioner almost shuts off," Opperman says. "That doesn't happen here because the HVAC is getting all the power it needs without the engine being on."
Solar panels are just one of the electrical support systems CatalIST features. Also available are a standard 12-volt system and a 24 volt system for the starter.
A ride height control system activates at 50 mph and changes the pitch of the vehicle to resemble an airfoil, which Opperman calls "the most aerodynamic shape you can get." Basically, the front of the truck and rear of the trailer lower themselves. At 30 mph the truck axles return their original position to allow for urban driving – over railroad trucks and avoiding damage from curbs.
The truck's N13 engine gets help from the electric-hybrid system that also helps provide power. The diesel engine alone produces about 60 horsepower to get the truck up to 60 mph.
Aside from freight efficiency, Navistar used its SuperTruck as a proving ground for technologies currently available on its highway tractors including its predictive cruise control.
Other improvements over the course of the five year project included advanced integration of Navistar N13 Engine utilizing proprietary intelligent controls and high efficiency combustion; reduction in aerodynamic drag through replacement of cab- and hood-mounted mirrors with a series of cameras and interior-mounted monitors, which also yield equal or better indirect vision for the driver; a new LED headlamp system that reduces lamp size for a more aerodynamic shape and cuts electrical power requirements by greater than 80 percent, while improving luminous output and light color for improved night-time direct driver vision and reduced driver fatigue; an all-new shape with a sloped windshield and wedged cab for improved aerodynamics. Innovative use of lighter-weight carbon-fiber panels in the upper body, roof headers, back panel, and dash panel; a hybrid front suspension and lightweight rear suspension that leverages lightweight alloys with composite materials, reducing weight and enabling an electronic ride height management system, which provides dynamic ride height and pitch control for improved aerodynamics; and aerodynamic improvements that reduce the trailer's drag coefficient by more than 30 percent.