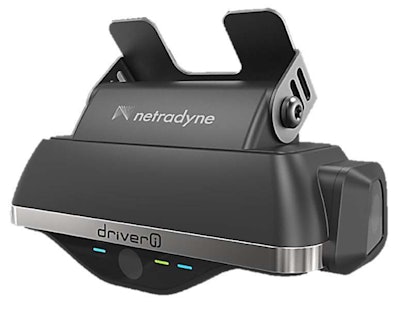 Video safety systems are one of the fastest-growing technologies in the commercial and private fleet market. Besides the liability protection video gives fleets and their drivers, some of these systems have extensive risk management, driver training and business intelligence capabilities.
Products with 360-degree camera views, extended recording and predictive 'big data' analysis will be leading the market growth of video safety systems over the next two to five years, according to a January, 2016, report from industry analyst firm Frost & Sullivan.
On Thurs., Sept. 15, NetraDyne announced a product with all of the above features and more. Founded in 2015, the San Diego-based company says its new video safety system was built from the ground up to focus on safety from the driver's perspective.
The new driver-i (pronounced "driver eye") platform from NetraDyne uses a four-camera system that enables a 360-degree field of view.
The cameras feed live video through a state-of-the-art Graphics Processing Unit (GPU) that makes one trillion calculations per second. These calculations use artificial intelligence, deep learning, and a "neuromorphic approach" that mimics how the human brain processes information while driving.
By comparison, a laptop can only make a billion calculations per second, says Sandeep Pandya, president of NetraDyne, who has more than two decades of experience in wireless product development and helped launch Qualcomm's modern chipsets.
The driver-i platform monitors both moving and stationary objects around the vehicle. Motorists, pedestrians, signage, traffic lights, weather and road conditions are some of the objects that it can instantly identify to assess risk, along with aggressive driving behaviors.
For critical safety events, it sends video to fleet management within minutes. Unlike other video safety systems, driver-i does not just score drivers for negative behaviors like swerving, speeding or hard braking. It also gives drivers credit for safe behaviors throughout the course of the workday.
During an online demonstration given to CCJ–similar to the video above–NetraDyne executives explained how driver-i analyzes driver behaviors in relation to the environment. Lines and text appear on the screen to show what the system is monitoring like the speed and distance of vehicles in front and to each side, just as a human driver would.
Watching driver-i monitor following distances, lane positions, traffic lights and more factors at highway speeds looks like it is playing a fast-moving game of chess.
Besides the mobile video analytics device, the driver-i platform includes a cloud-based fleet safety management center. The center gives fleet managers trend analysis and business intelligence tools with triggers for organization-wide workflow.
The driver-i's proprietary GreenZone Driver Score shows how drivers are tracking against team safety programs and goals. Fleet managers can set up performance-based push notifications to pass along kudos and rewards to drivers for excellent driving practices, the company says.
"The driver-i platform protects commercial vehicle drivers, which are a fleet's most valuable asset," said Avneesh Agrawal, NetraDyne's co-founder and CEO in the press announcement. "Our solution fosters collaboration, recognition, and retention; all of which have a positive influence on a fleet's bottom line."