Last year, e-commerce accounted for 10 percent of all retail sales and 60 percent of retail sales growth. As more sales originate through online channels, motor carriers and logistics providers are playing a critical role in the end-to-end delivery of information, and of course the products.
Increasingly, shippers are asking for more visibility of their shipments at every stage, from the point of sale to the "final mile" delivery. This visibility extends up the supply chain to the LTL and truckload shipments that move raw materials to manufacturing facilities, and onto distribution centers, warehouses and directly from manufacturer to doorstop or driveway.
Point of sale visibility
When visiting a retail store or an e-commerce site, people have come to expect to know the day and, if possible, the time their purchased goods will arrive for delivery.
Some routing software systems that private and commercial fleets use can provide a delivery ETA at the point of sale. To do this, these systems continuously optimize delivery routes as orders come in. They also use historical shipment data to predict future orders that will impact arrival dates and times.
Fleets that use TMW Systems' final-mile routing product, Appian DR Track, are able to provide their customers a delivery ETA at the point of sale, says Brian Larwig, vice president of optimization for TMW Systems.
Once the delivery date is confirmed, the Appian system continuously updates the ETA of the shipment as new orders come in, and finally as a truck is loaded and is out for delivery. The ETA status can be automatically sent to e-commerce websites using its standard application programming interface (API), he explains, for real-time shipment visibility.
"With our open API, anybody can design any type of system pretty easily to pull data in and out quickly," he says.
Paragon Software Systems has an end-to-end order fulfillment system, Paragon HDX, that can give real-time shipment visibility at the point of sale and throughout the delivery process, says Will Salter, Paragon's president and chief executive officer.
One of the system's unique features is a module that fleets can use to offer their customers a self-service portal. After placing an order in an e-commerce site, this module could automatically send the customer a link to a portal through a text or email message.
The end customer could use the portal to select a delivery date and time from a list of routing options that the Paragon HDX software has determined are feasible.
Putting tech to use
Less-than-truckload carriers are seeing more demand for time-specific delivery information, whether shipments are going to a distribution center or a driveway.
Southeastern Freight Lines (SEFL) strategically maintains its volume of residential deliveries between three and four percent of total freight volumes in its freight network.
"It's a matter of whether or not you can do it profitably and if it fits within your strategies," says Woody Lovelace, senior vice president of corporate planning and development for the Lexington, S.C.-based fleet with nearly 3,000 drivers.
SEFL provides a highly accurate ETA shipment status to its customers on the day of delivery. This information helps reduce the number of missed deliveries, especially since its predictions are accurate to within one hour.
"We can be tighter if we want to," he says.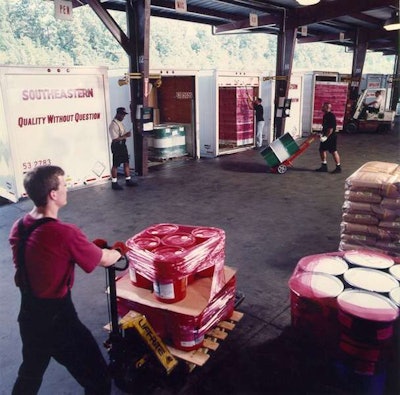 To provide this level of visibility, SEFL uses a proprietary route optimization, dispatch and mobile computing system called Laser.
The routing component of Laser kicks in when shipments are inbound to SEFL's service centers in 14 states. During the inbound process, SEFL contacts the consignees to set delivery appointments so as to ensure that someone will be at home to receive their shipments.
SEFL makes appointments for many B2B shipments as well. Overall, about 25 percent of daily shipments in its network have appointments, he says.
SEFL wants to automate the appointment process, but doing so will take more customers — particularly those that ship to residential locations — including e-mails and cell phone numbers of consignees in their bills of lading, he says.
This information is often missing, and makes it difficult for SEFL to automatically send out e-mails, text notifications and phone calls to make appointments.
On the morning of delivery, its routes are optimized and trucks loaded and closed out. At this point, the Laser system calculates ETAs for every shipment before its trucks leave the terminals. Delivery notifications are immediately sent to customers electronically via EDI or using web service APIs, Lovelace says.
One of the main benefits of developing the technology is a significant reduction of incoming calls on the day of delivery to ask "what time will my shipment arrive?" he says.
A service advantage
Integrated routing software and tracking platforms are also being used by local delivery and service fleets to meet the demands of e-commerce.
Poolsure has transformed its business with technology. Its customers do not need to pick up the telephone to order a delivery. In fact, they don't need to do anything at all.
Poolsure delivers chlorine and other water treatment chemicals and services to hotels, waterparks and wastewater treatment plants. The company uses the RouteCloud platform from Telogis to plan and schedule deliveries.
Water testing devices are installed in its customers' pools and connected to the Internet through Wi-Fi, Ethernet or cellular networks. The devices send alerts when problems are detected with tank levels, pumps, flow rates, and the water chemistry.
When pools are in need of immediate service, alerts are sent to RouteCloud which then automatically locates and schedules the optimal truck to make a delivery, says Alan Falik, president of the Houston-based company.
Out of 6,500 delivery sites, about 400 have the monitoring devices so far. Poolsure delivers to another 4,000 sites on a fixed delivery schedule. By increasing the number of sites with monitoring devices, Falik plans to further reduce delivery costs by scheduling runs based on actual need.
The company is working with a team of data scientists to create algorithms that will use the data gathered from its sensors and additional data to predict when deliveries are needed based on factors like spikes in demand, weather patterns and more.
"By next summer we hope to have a robust algorithm to predict our frequency needs," he says. "We can predict (deliveries) weeks in advance."
Larger shipments
Bolt, a provider of a web-based fleet management software system, is seeing more demand for final-mile routing solutions from truckload and LTL customers, particularly those that deliver to grocery and retail stores.
Jerry Robertson, chief technology officer of Bolt, says the companies want to provide their customers with an ETA to make sure someone is available to receive and unload the freight upon arrival. About 30 percent of its fleet customers are now using its final-mile routing ETA feature, he says.
The Bolt system can get optimized route plans from third-party products its fleet customers use, such as Appian DR Track and Telogis RouteCloud, he says. It also receives real-time tracking data from third-party telematics systems. Using route plans, tracking, and drivers' electronic log data, the Bolt system can provide ETA visibility from pickup to delivery.
As routes progress, Bolt can send ETA notifications based on distance or time, like when a truck is 30 miles or 30 minutes away from arrival. Soon, traffic and weather conditions will be factored into the ETA calculation, he says.
Third party logistics providers have to manage entire supply chains, and visibility requires bringing together information from multiple parties and systems.
All customers of Penske Logistics, a large 3pl, want direct access to real-time ETA information or at least the assurance that Penske's operations teams have easy access, says Tom McKenna, senior vice president of engineering and technology.
Penske developed its ClearChain technology suite to capture and provide real-time ETAs for order and inventory information down to the part/SKU level, he says. Penske Logistics is able to connect to the mobile phone of a Penske or non-Penske truck driver, with that driver's permission, to get real-time GPS shipment location updates to update shipment ETA.
E-commerce continues to place more demands on carriers and logistics providers of all types. Those leading the market are able to give more accurate and timely status of deliveries through all stages of an order.