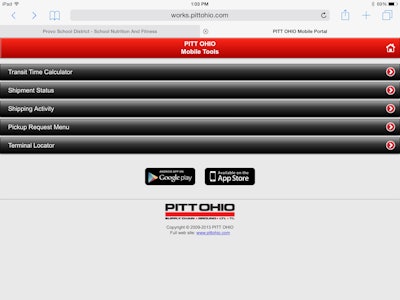 Pitt Ohio has a group of customers that want to know the time their shipments will arrive on the day of delivery. Others are content knowing they will get there by close of business.
Pitt Ohio, a full-service transportation and logistics provider, operates one of largest less-than-truckload fleets with next-day service in the Atlantic and Midwest regions.
The number of customers in the first group is growing, especially those that ship to residential locations, says Geoff Muessig, chief marketing officer of the Pittsburg-based company.
This trend is easy to explain. People are carrying over their expectations in business-to-consumer (B2C) e-commerce to the business-to-business (B2B) world.
When ordering online, many websites give a date when the parcels will arrive in their mailbox or at their doorstep. Equal, if not more, visibility is expected when consumers and businesses order pallet-size freight for delivery in a straight truck or tractor-trailer to their driveway or receiving dock.
Pitt Ohio traditionally has avoided residential deliveries, he says. As the volume and density of these shipments has increased, the freight has "sweetened the payload," especially on more rural routes.
Pitt Ohio, a former CCJ Innovator of the Year, recently developed a software program that pulls data from various systems into an algorithm to predict a delivery time window. The prediction is such that Pitt Ohio is able to ensure with 99 percent accuracy it will deliver within the specified timeframe. An electronic notification is sent to the customer that specifies the window of delivery at the moment the loaded truck leaves a terminal.
Sometimes the prediction gives a delivery window of four hours; other times it is down to two hours, depending on the characteristics of the route and the sequence of stops that day, he says.
"We don't want to disappoint with a prediction," he says. "People don't want to be home all day."
The notifications are sent to customers through electronic data interchange (EDI) or a web service API. This makes it possible to integrate the information into their IT systems and their own customer-facing shipment tracking websites. Those that use EDI get a "by when" delivery status, such as "by 4 PM." Those using the API get a more specific window like "after 12 PM and before 4 PM."
Overall, Muessig says the technology reduces incoming phone calls and gives customers greater peace of mind, as they know their shipments are on the way.