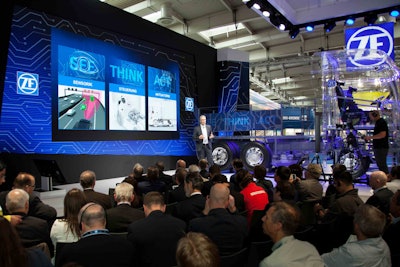 Electrification, autonomous concepts lead the way at IAA 2016
Global truck and bus manufacturers and industry suppliers showcased a wide range of innovations at IAA 2016, the world's largest trucking trade show held biennially in Hannover, Germany. New product announcements during two days of press conferences centered almost exclusively around two main themes: autonomous vehicle solutions and electrification.
Plugging in
Electric trucks and buses were a main focus for nearly every OEM and supplier at IAA 2016. The surge in interest for commercial electric vehicles has been fueled by a decrease in battery cost coupled with major advancements in battery technology.
Dr. Wolfgang Bernhard, head of Daimler Trucks, admitted he was surprised by the possibilities of electric trucks in the near future, but says they still will be best-suited for urban environments.
"I'm on record saying I didn't see electric trucks in the foreseeable future two years ago," said Bernhard. "But battery technology has changed more drastically than we ever hoped for. We are reaching the tipping point by the end of the decade where [demand for] electric vehicles will kick in."
While the push for electric trucks and buses certainly will arrive in the European and Asian markets first, several related announcements at IAA 2016 focused on electric vehicle solutions destined for the North American market in the near future.
On the heels of the previously announced Vision Van concept earlier this month, Mercedes-Benz Vans said interest in electric vans is picking up globally, and those products soon will appear in the U.S. market.
"Electric vans are especially well-suited for low-mileage, inner-city applications," said Volker Mornhinweg, head of Mercedes-Benz Vans, who added the company could introduce an electric van in 2018 in certain global markets.
Across the Pacific, Daimler Trucks Asia is itching to get back into the United States and Canada with a Fuso Canter product after a delay in the 2017 model-year release because the Fiat-supplied engines didn't receive emissions certifications.
Marc Llistosella, head of Daimler Trucks Asia, aims to turn Fuso's North American fortunes around with the introduction of the Fuso eCanter (previously called the Mitsubishi Fuso Canter E-Cell). The company launched its first electric Fuso truck prototype in 2011 at the Tokyo Motor Show, but Llistosella acknowledges that the vehicle will require better operating ranges and speed for widespread adoption in the North American market.
"Interest is high for electric vehicles in North America," said Llistosella. "There is willingness to change," but added the challenges remain vehicle range, infrastructure and price.
As it addresses these concerns, Daimler Trucks Asia plans to start small-series production of the eCanter in the United States, Germany and Japan by the end of 2017, with an advanced eCanter launch worldwide in 2018.
Autonomous trucks take center stage
Daimler kicked the week off with a media event on the eve of IAA 2016 with the debut of its Mercedes-Benz Future Bus autonomous bus concept that builds on the company's Highway Pilot autonomous driving system that debuted in the Freightliner Cascadia Inspiration in 2015 but adds additional functions to communicate with traffic lights, traffic flow patterns and pedestrians.
After demonstrating its autonomous capabilities with the self-driving Volvo FMX in a mining application, Volvo Trucks continues to work toward autonomous solutions for truck and bus applications.
"Connectivity is one of the key enablers of automated driving," said Claes Nilsson, president of Volvo Trucks. "Thanks to today's fast pace of technological development, the market will see more and more solutions that offer ever greater degrees of driver support. Self-driving trucks may gradually become an important complement in mining operations, for instance, but for transport operations on public roads the driver will continue to play the major role."
The building blocks of autonomy
There also were a host of announcements from companies that are providing incremental solutions toward autonomous truck operation that will be ready for market far sooner than many of the concept vehicles on display.
Eaton announced its Advanced Driver Assist System and Dock Assist feature that allows trucks equipped with certain Eaton automated manual transmissions to employ a self-docking feature to eliminate damage caused by manual docking.
The driver positions the truck and trailer in front of the loading dock, applies the service brake, comes to a stop and activates the Dock Assist function. The ADAS software engages transmission controls and backs the truck toward the loading dock. When the transmission senses contact with the dock based on the change in torque, the system allows the truck to self-park.
ADAS and Dock Assist soon will be available as a software upgrade for Eaton's UltraShift Plus, Fuller Advantage and Procision automated manual transmissions running a version 3.7 control module or newer.
In what Wabco Chairman and CEO Jacques Esculier referred to as "a suite of products that will allow functionalities that will help pave the path toward autonomous driving," the company unveiled a number of new accident mitigation technologies to detect and avoid obstacles on the roadways, including a partnership with Mobileye, maker of localization and high-definition lane data.
Wabco's OnGuardMax builds on the company's existing OnGuard collision mitigation system technology by adding full braking power in case the driver doesn't react in time to avoid an accident by detecting stationary objects using forward-facing 77GHz radar and high-resolution cameras. The company also introduced OnCity, a collision avoidance system that employs 180-degree sensors that detect pedestrians and obstacles on the sides of the truck and also applies full braking power.
Wabco also signed an agreement with Mountain View, Calif.-based Peloton Technology to supply its braking, advanced stability and emergency braking system technology for Peloton's platooning development program.
"[Uncongested] highways in the United States is the first environment that favors platooning," said Esculier. "Platooning is not only in favor about aerodynamic efficiency, ultimately it is to pull drivers from trucks, and this is particularly attractive for all countries across the world that have a shortage of drivers."
Earlier this year, Wabco and ZF released Evasive Maneuver Assist, sensor technology that automatically steers the truck around hazards and avoid rear-end collisions in situations where full active braking systems would not be able to avoid a collision, such an in icy road conditions.
EMA is one of the three cornerstones of ZF's Innovation Truck 2016, along with its Highway Driving Assist system that keeps the truck in its lane at a safe distance in front of the vehicle in front, as well as SafeRange, an autonomous maneuvering assistant that independently approaches the required loading dock to reduce the chance of accidents at shipper/receiver facilities.