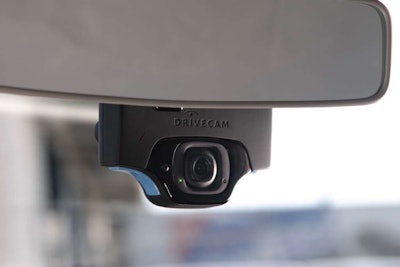 Lytx announced two new triggers – rolling stops and roll stability – to its DriveCam exception-based video safety program, bringing the total number of triggers to more than 70.
Using a combination of accelerometer and GPS data, the system determines when a truck is approaching an intersection with a stop sign. If the accelerometer detects that the truck didn't come to a complete stop, it captures the video for use by fleets in driver coaching. Lytx says the new trigger is completely configurable by the fleet, allowing the tolerance to the accelerometer to be adjusted so video capture only occurs for egregious instances.
"We have maps on our devices and we know where intersections are," said Brandon Nixon, Lytx chairman and CEO, during a press conference at the 2016 American Trucking Associations Management Conference & Exhibition in Las Vegas. "We have determined the best place to see the intersection and approaching stop sign is from a distance of 8 yards. Our system takes a snapshot and puts it through our machine vision capabilities to verify the stop sign."
The new DriveCam roll stability trigger uses the electronic control module to determine when drivers are triggering the vehicle's roll-stability system, indicating that driving behavior, such as speed, and/or road conditions are inconsistent with the load the driver is hauling.
Lytx introduced its Mobile Fleet Tracking Solution, expanding the company's previous fleet tracking system to include all mobile devices using a responsive, HTML5 design. Users can now monitor via phone, tablet or desktop a variety of features, including live fleet maps, geofence administration, vehicle history and vehicle search and list management.
Lytx also announced a completely redesigned cloud-based workspace for DriveCam Enterprise program users. The workspace knows the user's service configuration and displays data most relevant to a particular user, whether a coach, safety manager or business owner.
"We're using the power of our analytics engine to prioritize tasks, generate new visual representations of driver safety performance scores to facilitate better coaching discussions, and help coaches more easily identify drivers who've earned positive recognition," said Nixon.