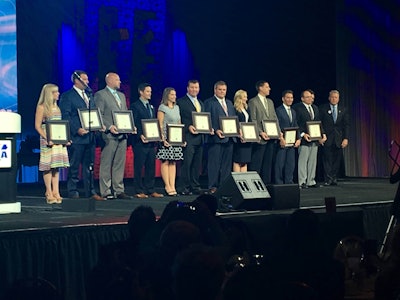 American Trucking Associations recognized Sunday the graduates of its third LEAD ATA industry leadership program during the annual ATA Management Conference & Exhibition.
The program provides exclusive education opportunities to up-and-coming trucking industry professionals highlighting how the regulatory and legislative process affects the trucking industry and the important role ATA plays in influencing those processes. LEAD ATA also exposes its participants to the many tools available to industry executives through ATA.
The recent graduates were Elise Chianelli, PeopleNet; JJ Clemmons, Summerford Truck Line Inc.; Jordan Culver, Q Carriers; Jonathan Doss, Celadon Trucking; Melanie Feeley, K-Limited Carrier Ltd.; Shawn Goad, Ruan Transportation; Mack "Dutch" Guest, LAD Truck Lines, Inc.; Megan Melichar, Fed Ex Ground Package Systems; Dan Olivier, USF Holland Inc.; Thomas Putnam, FedEx Freight Inc.; Jeff Reed, Skyline Transportation Inc.