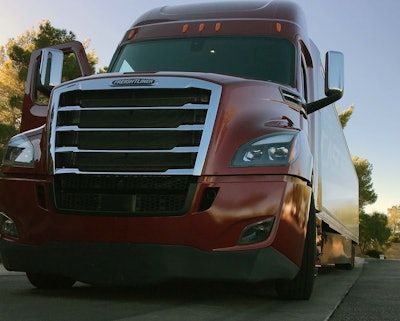 Freightliner's new Cascadia has much in common with previous generations of the truck – except that it's better in almost every way possible. Equal parts luxury automobile and space shuttle, the company's flagship on-highway tractor has received a facelift and fine-tuning for the 2018 model year.
Officially unveiled in September, I was able to take the new tractor on a roughly 200 mile jaunt through the Nevada desert and into California earlier this month with "out with the old, in with the new" on full display.
Departing Henderson, Nevada, the first leg of the trip was mostly at highway speeds. The drive southbound on Interstate 15 provided fertile hunting ground to test Detroit's refined adaptive cruise.
The DT12's skip-shift feature got my 400-horsepower DD15 up to speed quickly. I was following another 2018 Cascadia on the drive and used it as my pace vehicle. As we approached 65 mph, I set the cruise and tucked myself in line behind it. For 10 miles or more, I barely touched the brake or accelerator.
When the truck ahead of me slowed, my Cascadia applied the engine brake to maintain a two-second-plus following distance, seamlessly doing the same when a car cut between us and disrupted the original two-second interval. At no point did I ever feel I had ceded control to the truck, and as we exited the highway, I let the adaptive cruise handle all of the deceleration; I only applied the Bendix disc brakes to hold us at the red light at the end of the ramp.
Detroit's fourth-generation Intelligent Powertrain Management uses GPS-based technology to maximize the DT12's fuel economy performance by anticipating changes to road terrain. All of that happens without you really knowing it until you slip your fuel card into the pump.
About halfway into the drive, we pulled off onto a state highway in a Joshua Tree forest to shoot some pictures, an idea we shared with a large group of French tourists – a collection of about 50 people loosely scattered among the trees snapping photos of each other.
By the time I could climb out of the cab, we became part of the roadside attraction. The dense groves of Joshua Trees emptied of tourists who now were snapping pictures of themselves with the truck – some on the outside, some in the driver's seat. The French version of Facebook, I'm sure, was flooded with new profile pictures minutes later.
Several dozen handshakes and a blast of the air horn later, we point the two-truck convoy toward Searchlight, Nevada.
Back on the road, we found several long grades to challenge the Detroit powertrain, which responded to everything I threw at it. The smart-shifting DT12 consistently found the right power band from the 1,750 lb.-ft. of torque to get us up and back down as winds cut across the dry valleys.
Standard enhancements that all minimize drag and dial down in-cab noise include an upper door seal, elliptical-shaped mirrors, a sloped hood, a bumper with an integrated air deflector and integrated antennas. Conversation in the cab was easy thanks to a third door seal and 3M's Thinsulate; I've been in passenger cars with more wind noise.
Freightliner worked with Teague, a designer of Boeing airplane interiors, to develop lighting, storage and ergonomic features. The result of that collaboration is a cab that feels more like a cockpit, with switches and controls intuitively placed within easy reach.
The transmission and three-stage engine brake can be controlled via a blinker-style switch on the steering column, and ceiling-mounted LED lights offer more ambient cabin illumination to reduce eye strain. The new 5-inch instrument display, which is located front-and-center of the driver in the instrument cluster, is handy.
With so much information available via a steering wheel-mounted toggle, I originally thought this might prove more distraction than beneficial. It's easy to geek out with so much cool technology at your fingertips, but the ability to select which information is most important to you – from tire pressure to axle load – makes it easy to distinguish data with a quick glance downward.
The one-piece windshield delivers an unexpected boost in visibility, as does the elimination of splits in the side windows. That's a benefit you don't really notice until you're in the driver's seat. Visibility in the previous-generation Cascadia wasn't bad; it just wasn't this good.
My test truck was outfitted with the Elite Package, which included Oregon Ash wood-grain trim accents. My red sleeper also featured vented seats, a factory-installed refrigerator, a 40-inch liftable lower bunk, a flat-screen television mount, a 1,500-watt Xantrex inverter, an upper cargo shelf, the ParkSmart HVAC system with optimized idle, a full-size microwave cabinet, front and side overhead storage cabinets and a dimmable LED ambient light bar.
Cascadia's new front suspension – a 12,500-monoleaf design – provides a smoother ride and improved roll stiffness, and the steering gear was relocated further forward; that small change improved steering precision to a point that it rivals Freightliner's German-engineered C-Class cousins.
The Detroit Assurance 4.0 suite of safety systems includes Active Brake Assist that now provides full braking on stationary objects, Adaptive Cruise Control and Lane Departure Warning with optional video capture. The proprietary safety suite includes driver-friendly controls and is integrated seamlessly into the truck's dashboard, engine and transmission electronics and can enhance driver safety by mitigating collisions. Thankfully, my three-hour drive was mostly uneventful, and I didn't need to test much of this system beyond the audible lane departure warning.
When Freightliner first introduced the Cascadia in May 2007, the company said it would offer 3 percent fuel savings over the Columbia and Century Class models that it ultimately would supplant. Freightliner estimates the integrated powertrain on the new truck will deliver 8 percent better fuel economy performance over the current-model Cascadia Evolution.
Fuel efficiency gains are driven mostly by powertrain technology advancements and aerodynamic refinements, the fruits of Daimler Trucks North America's participation in the U.S. Department of Energy's SuperTruck project.
My fully loaded Detroit 40K axle 6X2 averaged about 10 mpg, but we hit little traffic on the drive.
It takes a lot of guts to completely reinvent a truck that is already the most efficient product on the road, especially when you consider that a 40 percent-plus market share is on the line. But with the 2018 Cascadia, Freightliner has hit home runs in style, efficiency and comfort.