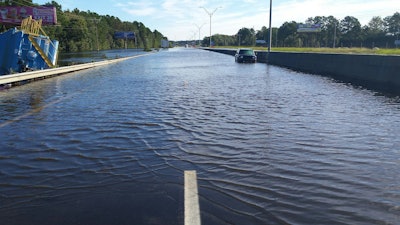 Update – Wednesday, Oct. 19, 8 a.m.: The North Carolina Department of Transportation has announced I-95 is completely open in both directions throughout the state. I-95 South is still reduced to one lane, however, at exit 79 and exit 25 as crews work to repair damage from Hurricane Matthew.
Repairs are currently underway on I-95 at mile marker 18 in Robeson County. pic.twitter.com/aU9VQFvID6

— NCDOT I-95 Traffic (@NCDOT_I95) October 14, 2016
Flood waters from Hurricane Matthew are receding from I-95 in North Carolina, allowing state officials to being reopening portions of the Interstate that have been closed for more than a week.
According to the North Carolina Department of Transportation, I-95 North is open throughout the state with no closures. The only closures that remain on I-95 in the state are the southbound right lanes near exit 79 and exit 25. I-40 has also been reopened in both directions.
A traffic shift has opened a lane of I-95 South near mile marker 78 where a washout of the interstate occurred last week. A temporary lane has been placed on the southbound side of the median to allow traffic to flow in one lane, making the previously-announced detour through the town of Benson unnecessary. NCDOT expects the regular southbound lanes to be closed for approximately a week as crews repair the washout.
Size and weight and hours-of-service regulations are still suspended in both North Carolina and South Carolina for relief load haulers, as well as in Kentucky and Virginia, for truckers hauling food, equipment, supplies and more to the states affected by Hurricane Matthew. More on the regulations suspension can be seen here.