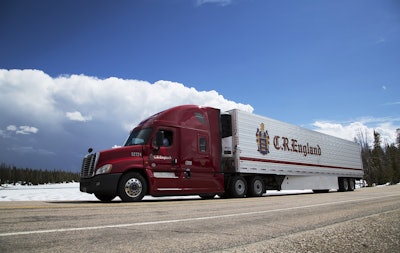 During the last six weeks, Tyler Hayes has reviewed a handful of contracts from big shippers that contain new provisions for complying with the Food Safety Modernization Act, and more specifically the Sanitary Transportation of Human and Animal Food (FSMA STF) rule.
Hayes is associate general counsel of C.R. England, the nation's largest refrigerated carrier. The Salt Lake City-based company operates more than 5,000 refrigerated trailers and 1,600 intermodal reefer containers.
In reviewing C.R. England's commercial transactions and contracts, he is spending more of his time these days on regulatory compliance and food safety.
Other motor carriers and freight brokers that transport temperature-sensitive loads are also starting to see how the FSMA STF rule from the Federal Drug Administration (FDA) might impact their operations.
"Those of us in the middle of it are still trying to figure out what it will ultimately look like," Hayes says. Based on early indicators, he is concerned that "people that are not carefully reviewing their contracts might end up with more liability than they would have foreseen."
New changes
The FDA proposed the rule in 2013 and a final rule was published April 6, 2016. Enforcement will begin one year later.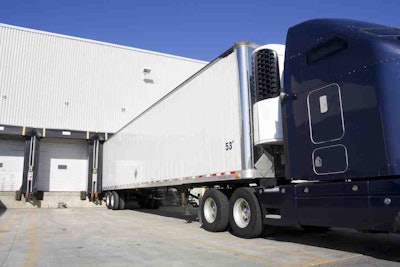 By April, 2017, shippers will be required to communicate their food safety requirements to carriers in the key areas of equipment, operations and training. Carriers must have written policies and be able to document compliance.
A failure by a shipper to dictate any of the required steps or failure by a carrier to follow through could result in fines, cargo claims and even criminal sanctions.
C.R. England's shipper contracts always have required clean and sanitary equipment and to maintain proper temperatures in transit. Some of the new provisions in contracts for FSMA STF compliance, however, have been very broad and unworkable, he says.
As an example, Hayes mentions a contract that contained wording like the following: "If the carrier fails to deliver the product in accordance with shipper instructions, the product will automatically be deemed adulterated."
The term "shipper instructions" is vague and "opens the door to a lot of things," he says. "We've had to work with some customers to narrow the scope."
One requirement in the rule is that shippers provide carriers with an operating temperature for loads. Shippers traditionally have included temperature in their bills of lading. This was done to ensure product quality, he says. The FSMA STF rule goes a step further. Violating the operating temp for a load is defined as more than a quality issue; it is a food safety issue.
"You are always going to get safety if you have quality," says Hayes. Now the same is true in the opposite direction. If a carrier exceeds the operating temp of a load it will have not only a quality issue to deal with but a food safety issue.
As such, Hayes is concerned that shippers might automatically consider loads adulterated if a carrier fails to keep the operating temp within range such as "37 degrees Fahrenheit plus or minus two degrees" during transit.
For example, a load of carrots and a load of mayonnaise do not carry the same food safety risks for operating temp, he says. Carrots do not become toxic if the temp falls out of range by a few degrees.
On a related note, shippers might use a narrow operating temp for a load of mixed commodities, he says. What will happen if the trailer temp for a mixed load of carrots and mayonnaise reaches 40 degrees in transit?
"The narrower the operating temperature, the more potential the carrier is going to have a cargo claim based on an adulterated load," he says. "(The FDA) is creating a situation where the shipper is inadvertently designating things as unsafe."
Gearing up with technology
The use of trailer telematics is a common strategy for carriers to comply with FMSA and their shipper requirements. These systems monitor and communicate data to and from reefer units like the temperature and operating conditions.
C.R. England is using a trailer tracking and monitoring system from Orbcomm that gives around-the-clock visibility to its assets without requiring a connection to tractors. The system has two-way connectivity using cellular and satellite networks.
Through data integration with C.R. England's custom management portal and dispatch system, the company can set trailer temperatures remotely. This feature is only used for trailer pre-cooling purposes, Hayes says, as "we would always want the driver to be setting the temperature (on the trailer) since they are going off the temperature on the bill of lading in their hand."
The temp on the bill of lading may be different than the booking temperature that the shipper sends for an order, he says.
The Orbcomm system alerts management when equipment is not operating as per its configuration. It also helps minimize human error by comparing trailer temperature against the temperature specified in the order.
If a driver adjusts a trailer's temperature in error, the system immediately notifies operations for a follow up investigation.
"This type of error may be rare, but it happens, and when it does it can be very costly," says Ron Hall, vice president of equipment and fuel.
The telematics system has helped the carrier comply with some guidelines in FSMA by enabling in-transit temperature monitoring, automating record keeping and providing proof-of-temperature records as required.
"With most customers, we will provide them data upon request," Hayes says. "We have already seen our bigger and more sophisticated shippers want to collect a lot of data. We have agreed to set up data feeds with them."
The data feeds include information on the temperature, location, door status (open or closed) of every load, he says. Very few shippers are asking for this level of detail, however.
C.R. England also uses its trailer data to monitor dwell and detention times of trailers, and invoice customers that exceed grace periods.
"Reefers are one of the most expensive ways to store product but some companies are not efficient with warehouse space," Hall says. "What we're able to do now with the data is encourage efficient use of our trailers by invoicing for inefficiency."