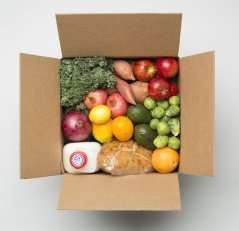 In a previous article, CCJ reported on how new rules from the Federal Drug Administration (FDA) might impact transporters of temperature-sensitive food products.
CCJ recently spoke with Brian Mathis, Esq., from Taylor and Associates Attorneys, to get a better understanding of the rule and its implications to the transportation industry.
In 2013 the FDA proposed the Sanitary Transportation of Human and Animal Food (STF) rule. The final rule, part of the Food Safety Modernization Act, was published on April 6, 2016.
Enforcement is set to begin on April, 2017, at which time shippers will have communicated their new food safety requirements to carriers in the key areas of equipment, operations, training and records.
In turn, carriers must have written policies for these areas and be able to document compliance to shipper requirements.
"We are just now beginning to see shippers address some of the new requirements," says Mathis, who represents clients that include motor carriers, owner-operators, brokers, agents and freight forwarders.
Shippers have historically included requirements in motor carrier agreements regarding cross-contamination, temperature controls, claims handling, and secondary markets, he says.
To comply with the STF rule, shippers are adding new requirements for pre-cooling and temperature conditions, equipment cleaning procedures, and record keeping, he says.
"Our expectation, at least initially, however, is that these requirements and procedures may be prepared as separate policies and procedures rather than immediately drafted directly into the master shipper-carrier agreements," says Mathis.
For motor carriers, the most concerning aspect is the potential increase in claims for cargo damage that may arise out of the new rule, he adds.
Mathis advises carriers to first understand the requirements and then focus on best practices for their specific operation.
"In this case, there are additional records and retention requirements at play under the new rule, so each motor carrier is going to need to understand those specifically," he says. "From there, we recommend a focused evaluation by the carrier of its information management and retention programs. We're always encouraged by the continued incorporation of technology in the transportation industry, but that may not necessarily provide the answer at every level."
Gearing up with technology
The use of trailer telematics is a common strategy for carriers to comply with some of their new shipper requirements. These systems can monitor and communicate data to and from reefer units like temperature and operating conditions.
The STF rule states that carriers need to demonstrate they have maintained requested temperature conditions during transit, but only upon request. Temp records are therefore not a requirement for every shipment.
Even so, trailer telematics systems can provide such records with a few mouse clicks.
Blue Tree Systems started in Europe where fleets have to meet stringent regulations for temperature-controlled freight. Its telematics footprint has since been growing in the United States.
Blue Tree makes use of a single device platform, the BT500, for tractor and trailer telematics applications. In the trailer, its device connects to reefer units from Carrier Transicold and Thermo King to capture and transmit data to its online fleet management system. It can also receive inputs from temperature probes and door sensors.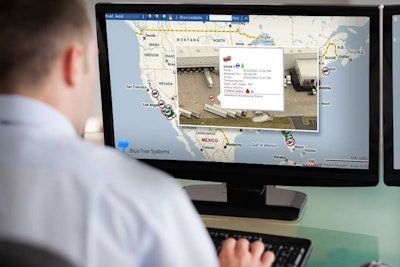 For FSMA and STF compliance, fleet users can create a PDF or spreadsheet report of trailer temps during transit and e-mail it to their customers, on demand. For more real-time visibility, fleets can give shippers login credentials to the online portal, says Chip Powell, director of U.S. operations for Blue Tree Systems.
As an additional compliance tool, Blue Tree is working to add a trailer washout program. Locations of commercial and non-commercial washes will be added to its online database for automatic recording of time that trailers arrive and depart from wash locations.
The plan is that fleets will use this feature to document the activities and audit trailer wash receipts, Powell says.
Remote control
Several trailer telematics systems have two-way remote command and control options. This gives authorized fleet users the ability to change temperature set points through an online portal.
Thermo King has been in the trailer telematics business since 1997, starting with a satellite-based system for tracking locations and reefer status information.
The company's TracKing telematics platform has two-way reefer command and control features that allow users to change temperature set points remotely.
Not all trailer telematics platforms have this ability. SkyBitz, for instance, does not integrate with reefer units from Carrier and Thermo King. Its system captures inputs from independent temperature, cargo and door sensors.
Henry Popplewell, president of SkyBitz, says the data capture features are enough to satisfy most shippers' FSMA requirements, and the system is an economical option for carriers.
Exception alerts
Perhaps the most useful trailer telematics features for compliance are alerts that give early warnings that equipment is not operating properly.
Blue Tree's platform lets users configure alerts if trailer temps exceed the specified range during transit and for mechanical issues like low battery power, low fuel level or sudden fuel loss, Powell says.
Additionally, fleets that use BT500 telematics devices in both tractors and trailers can set up the in-cab driver display to alert for real-time exceptions. As one example, a driver could be alerted when picking up a "hot" load, he says.
A hot load would be detected if a reefer's return air temp is higher than the operating temp setting for the load. Return air indicates the temperature of the cargo, Powell says. Before loading, a driver could verify on the in-cab display that the pre-cool temp matches the operating temp on the bill of lading and the temp of the load.
Recently, Thermo King redesigned its TracKing web platform to include a number of drop-down filters that let users customize their screen views and alerts, says Gayatri Abbott, telematics product manager for Thermo King North America.
One new feature is dual-screen viewing that lets users see all trailers in their fleet on a map on one side, with alarms and individual trailer details on the other — all without leaving the main page.
A new interactive temperature graph lets users zoom into specific temperature and reefer events for cargo traceability and verification.
Enterprise management
Software companies that develop enterprise management systems for transportation companies see an opportunity to meet and exceed FSMA compliance.
TMW Systems is focused on developing new dashboards to give motor carriers real-time visibility to their shippers' FSMA requirements, says Brian Larwig, vice president of optimization.
TMW Systems, a Trimble company, has an integrated suite of enterprise management systems for dispatch, route optimization, asset maintenance, telematics, record-keeping and other applications.
The new dashboards will monitor data from each of these systems and provide alerts and visibility. Examples of alerts include the temperature in a trailer being out of range for an order, or when a load is assigned to a trailer — such as fresh produce — that has not been washed since its previous load.
To create the dashboards, TMW Systems is working with another Trimble-owned company named HarvestMark that developed a fresh food traceability and insights platform.
Major food brands already use the HarvestMark platform to go beyond FSMA compliance. QR codes can be attached to items at the farm source. As food products move through the supply chain, the information is recorded and presented to the end consumer at the grocery store when scanning the QR code with a smartphone. The consumer can see where the food came from and if its subject to recall, for example.
TMW Systems is working with HarvestMark to create similar types of visibility dashboards that carriers can use to provide similar information to shippers, Larwig says. For example, a carrier could show a customer a dashboard of their FSMA compliance metrics for the past year of shipments.
"Whoever adopts this and takes those next steps outside the regulations is going to have a real advantage in picking up food volume," Larwig says.
As previously reported by CCJ, McLeod Software has made it a top priority to develop new software features that help carriers and brokers meet FSMA requirements.
About 25 percent of McLeod Software users now transport refrigerated shipments. The company offers enterprise-wide transportation management software (TMS) for motor carriers, brokerage and logistics companies.
"We have the capability now to capture most, if not all, the information that a trucking company needs to keep track of," said Tom McLeod, president of McLeod Software. "There is still a fair amount that we can and will do as soon as we know more about the requirements."