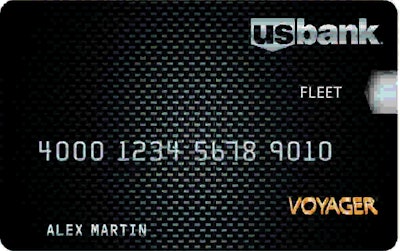 U.S. Bank will be expanding its Voyager Network by making its fuel card usable at thousands of additional private fueling sites. The card will provide fleet managers with richer data and more control when their drivers access automated, unattended fuel sites, the company says.
Corporations, government agencies and other organizations often power their fleets with fuel purchased in bulk dispensed from private locations. These private fueling sites, sometimes known as "cardlock" or "backyard" sites, offer flexibility beyond the usual gas stations and truck stops. With the Voyager Network expansion, drivers can access thousands more private sites with their fleet cards, while fleet managers get additional controls, pricing capabilities and robust "level III" fleet data such as vehicle ID, odometer reading, fuel grade and gallons for each purchase.
"There is no comparable offering that covers all vehicle classes and provides acceptance as broad as the Voyager Network on a single card," said Marie LeMoine, U.S. Bank fleet product manager. "Our Voyager cardholders now have more flexibility, functionality and visibility than ever before."
The Voyager Network is owned and operated by U.S. Bank and includes more than 230,000 locations nationwide. This marks the second expansion for Voyager in as many months. In late August, U.S. Bank launched the new Voyager Fleet Card – a fully integrated fuel payment system for all vehicle classes, from cars to light-duty trucks and over-the-road rigs, on a single card.