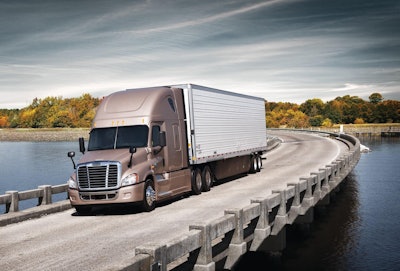 Daimler Trucks sold 97,100 vehicles in the third quarter of this year compared to 128,500 globally for the same quarter last year.
In the company's earnings report last week Daimler said the decrease is the result of lower demand for trucks in many of its key markets.
"In the NAFTA region, unit sales by Daimler Trucks decreased to 31,400 units in a declining market (compared to 52,200 during Q3 last year). At the same time, the division succeeded in further extending its market leadership in Classes 6-8, taking 39.3 percent of the market ( compared to 38.1 percent last year)."
The division's revenue decreased from $10.53 billion to $8.53 billion. Negative effects on the division's earnings primarily resulted from lower unit sales in the NAFTA region, Turkey and the Middle East, the company said.
Earnings were also reduced by intense competition in Europe. The realization of further efficiency improvements and exchange-rate effects had positive effects on earnings. EBIT also includes expenses for workforce adjustments in the context of ongoing optimization programs in Brazil.
Demand for medium- and heavy-duty trucks in the regions important for Daimler should be perceptibly below the prior-year volume, the company noted. A major negative factor is the expected significant market contraction in North America. In a comparatively weak overall investment environment, from today's perspective, demand in the market for Classes 6­8 trucks can be expected to decrease by approximately 15 percent.
Thanks to strength in Daimler's car and van business, Daimler sold 754,100 cars and commercial vehicles worldwide during Q3, more than ever before in a third quarter and surpassing the total for the prior-year period by 5 percent.