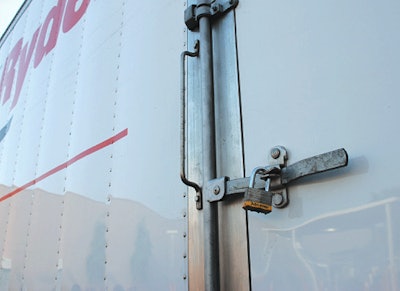 The International Cargo Security Council estimates that more than $10 billion in merchandise is stolen or damaged each year, but when you factor in productivity losses and higher insurance premiums the annual cost soars to upwards of $60 billion.
While trailer contents are often the most valuable part of a highway heist, they're not always the only thing taken. CargoNet recorded more than 1,500 incidents of stolen commercial-vehicle cargo or equipment in the U.S. and Canada in 2015, with 619 reports involving stolen commercial vehicles. CargoNet reported 309 incidents of vehicle theft in the third quarter this year.
Thefts through the first half of this year have trended downward according to FreightWatch International, which recorded a total of 166 cargo thefts in the second quarter of 2016 – an 11 percent drop in incidents from the same time period last year.
In order to keep thefts low to round out the year, FCCI Insurance Group recommends fleets employ a layered defensive approach.
Layer 1: Common sense. Drivers should remove the keys from the ignition when not in use, lock all doors and windows and park in well-lit areas. According to FreightWatch, 82 percent of the thefts so far this year occurred in unsecured parking locations.
"Finding safe parking, especially at night, is one of the top concerns for truckers," says Ivan Tsybaev, CEO of Trucker Path, publishers of an app that can assist drivers with route planning that gathers user input from 450,000 drivers to provide real-time information on available parking. "To check whether it's safe or not, users rate truck parking locations and leave reviews. Therefore you can always see beforehand whether a rest area has available spots and is safe."
Tsybaev says Trucker Path has also analyzed parking availability and found that it's not the shortage of spots themselves, but rather lack of information that has truckers spending hours searching for a spot and eventually ending up on freeway ramps or unsafe places.
Layer 2: A visible device that alerts thieves that your vehicle is protected – like a dash-mounted air brake lock, pedal lock, steering column collars or wheel locks and clamps.
"You can use a minimal wheel boot, such as the Titan Grip," says Universal Boot Vise President Oliver Dumoulin. "Cheap and portable, these install in a snap and fit almost any truck."
However, Dumoulin says they won't be the most effective deterrent because of their smaller size and modest appearance.
"You can use a more complete immobilizer, like the all-steel clamp," he adds. "These clamps are more rugged. A very effective theft deterrent, and they cover the lug nuts to prevent bypassing the lock by changing the wheel."
If the truck has full-sized dual wheels, you can use a double wheel clamp. While more expensive and tricky to install, Dumoulin says they are an effective deterrent that can also be installed on a tractor while hooked to a trailer.
Layer 3: An immobilizing device that prevents thieves from bypassing the ignition and hot-wiring the vehicle. These kill-switch type devices traditionally inhibit the flow of electricity or fuel to the engine until a hidden switch or button is activated.
"We've had over 5 million installs and never had a truck stolen in 40 years in business," says Ravelco President Jimmy Raviele, whose company manufactures a dash-mounted programmable plug that immobilizes a truck when removed.
The Ravelco plug is uniquely coded to a specific tractor with one of more than 100,000 possible combinations and ties together multiple circuits required to start the truck.
"When you plug that in, that completes that circuit," Raviele says. "Without that plug, it's like removing the engine."
Layer 4: A GPS-enabled tracking device is basically the last line of defense. It emits a signal to police or a monitoring station when the vehicle is reported stolen.
The Omnitracs TT150 and TT210 each provide up-to-the-minute tracking of assets, whether connected to tractor power or not. Emergency tracking can also be activated, increasing reporting frequency in order to recover a stolen asset quickly.
"The last reported location of a trailer can only do so much to help find it," Omnitracs Product Manager Paul Flesher says, "and in the case of theft or misuse of a trailer, the chances of recovering it drop significantly when this limited information is all that is available."
Flesher adds the TT150 has the added benefit of being small and easily installed on just about any location on a trailer, making it inconspicuous and unlikely that it will be removed from the trailer.