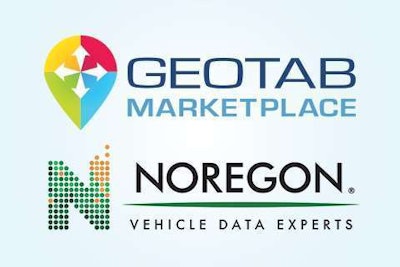 Noregon, vehicle data experts and creators of the JPRO in-shop diagnostic software, announced the availability of TripVision on the Geotab Marketplace.
The Geotab Marketplace is the go-to source for business applications and add-ons for fleets that use the plug-and-play MyGeotab platform for GPS fleet management and telematics.
TripVision is a fault guidance service that provides real-time vehicle health monitoring for all heavy-duty makes and models. Noregon says the service gives fleet dispatchers detailed fault information from each vehicle that includes a safety score, health score and location information to better manage fleet operations.
TripVision is accessible through a portal using any internet connected device, with pertinent information organized for users to make quick decisions.
"TripVision provides a comprehensive solution for fleets to turn their vehicle data into usable information," said Bill Hathaway, founder and CEO at Noregon. "Noregon is extremely excited to work with Geotab and offer this much-needed solution to our mutual customers."
The Geotab Marketplace offers applications to more than 14,000 Geotab customers and is on track to feature over 200 third party applications by the end of the year.