Getting a Commercial Driver License isn't easy, and I didn't get into this entire thing expecting to breeze through it. It certainly wasn't a breeze.
I dipped my toe in the water back in June. It took a little more than a month to get my learner's license. From July through last week I didn't make a lot of formal headway. I did plenty of driving but I wasn't able to really train.
That changed last week when Ryder's Tom Fallon came back to Alabama for a four-day, intensive trucker's bootcamp. Learning to back up in three days, at least up to the Department of Public Safety Standards', is probably impossible but we gave it a shot. That's really all we could do, right? Try.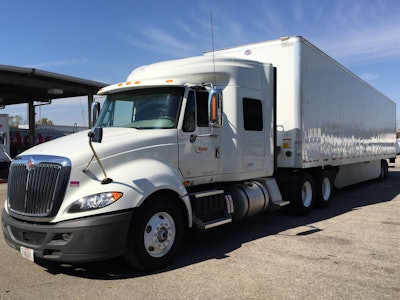 Along with Tom's knowledge, Ryder loaned me a white ProStar and a 53-foot Utility trailer. We drove and backed that thing everyday from Halloween to last Friday between Montgomery, to Selma to Demopolis, Ala.
There were times I got so frustrated that I thought my head was going to explode, but hours and hours of practice slowly started to click. Each day, I was able to make the semi do things I couldn't the day before. But none of that would matter if I laid an egg at the DMV on Friday.
The test that was supposed to take two hours took about four. That's probably my fault, but they don't offer a NASCAR endorsement. I only had one crack at this. Tom was headed back to the airport later that day and I had to return the truck Friday afternoon. Talk about do or die. Pass or fail, my trainer and my truck are gone when the test ends.
When the examiner approached the truck for our 8:30 a.m. appointment, my stress meter was already on 10 and quickly headed to 135,871. These guys are paid by the fail, right?
On an unrelated note: Have you ever watched one of those TV shows where the main character just got some good news – maybe they got into a certain college or found out they were having a baby – but they act somber to toy with their friends and family before blurting out the great news? This is one of those times. I passed.
For my pre-trip, I was assigned the in-cab, air bakes and the trailer. Passed all three. Then I had to straight-line back, offset back and, finally, alley dock. Passed all three. Zero cones were killed in each of the attempts. On to the roads around Selma for the road test. Passed. My examiner was a really nice guy, by the way. He shook my hand when he told me I passed and said he was rooting for me. I thought that was cool.
I can't thank the folks at Ryder enough for their support. Jonathan Mayor and Kelly Avallone handled the bulk of the logistics required in getting all the equipment from where it was to where I needed it to be. I'm sure that was more complicated than I realized but it looked seamless. I also very much appreciate everyone at Ryder who worked behind the scenes in support of Jonathan, Kelly, Tom and I.
Tom Fallon is a driver training rock star. Rock. Star.
I'm still amazed we managed to pull this off in three days. More credit for that is due to Tom's ability to teach than my ability to learn. I've always had respect for truck drivers. Regardless of what some of the motoring public may think, driving a semi (or driving one well) is a skill and being a good driver is a talent. Like being an artist, welder or a writer, ability comes natural to some. Others struggle to learn it and some never do figure it out. I owe Tom a lot of thanks for finding ways to help me figure it out.
Also, I appreciate all the kind words, positive comments and well-wishes that have been left on the previous six blog entries. It's always great to know people are reading, and I truly appreciate y'all following along. Writing this series has been a lot of fun and, at times, therapeutic.
This roughly five month stop-and-start process has shown me first-hand just how challenging the path to becoming a driver can be, and all the hard work that good drivers have to put into their jobs to be safe and reliable.
I'll see y'all out on the highway. Now I just need a cool CB handle.