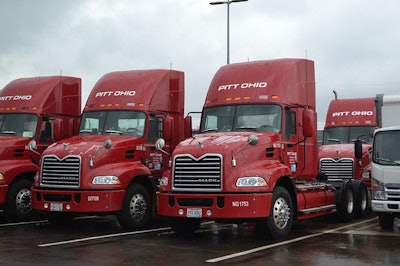 Earlier this year, Pitt Ohio executive Jim Fields talked to a neighbor who works for the University of Pittsburgh.
The neighbor wanted to introduce him to a colleague, Dr. Carrie Leana, a professor of organizational behavior and management at the Katz Graduate School of Business.
Leana is a renowned expert on how financial stress impacts the cognitive skills and performance of workers.
Fields was interested to see where this might lead.
"We knew that we had some challenges with the personal finances of our employees, just from anecdotal things that we would have discussions with them about," says Fields, the chief operating officer of Pitt Ohio.
Brian McGuire, vice president of human resources at Pitt Ohio, saw an opportunity as well, especially with driver safety performance.
"Anytime you have a stressed or distracted driver they are not going to be as safe or as fully alert," he says.
Pitt Ohio, a full-service transportation and logistics provider based in Pittsburgh, operates one of the largest less-than-truckload fleets with next-day service in the Atlantic and Midwest regions. The company is a past recipient of the CCJ Innovator of the Year award.
After speaking to Leana, Fields and Pitt Ohio started working with Jirs Meuris, a doctoral candidate at the Katz Graduate School of Business, University of Pittsburgh.
Meuris administered a survey to employees of Pitt Ohio. Participation was voluntary and responses were kept confidential. Employees sent completed surveys directly to the university in sealed envelopes.
Ninety-four percent of Pitt Ohio employees, drivers and non-drivers, participated. Researchers then provided Pitt Ohio management with anonymous results that showed a high percentage of its employees did not have emergency savings.
National statistics show nearly half of American consumers would have trouble finding $400 to pay for an emergency. For Pitt Ohio, the survey results showed:
Two-thirds of employees did not have enough savings to cover up to 60 days of expenses during an injury or illness.
More than half pay regular interest on credit cards.
Thirty-three percent worried about their financial situation.
As part of this research project, Pitt Ohio provided researchers a report from its Safetybox software. The de-identified data was used by researchers to correlate financial distress to the safety performance of drivers.
"What they found is that financial worry leads to more distractions, and made drivers 50 percent more likely to have a preventable accident," Fields says.
Once the research was complete, management of Pitt Ohio "started talking about reasonable solutions to remedy this," he says.
The company decided to start a financial efficacy program that includes emergency savings accounts for employees. To participate, employees can sign up voluntary to make a weekly payroll deduction. The funds are automatically deposited into personal accounts at a local credit union.
Pitt Ohio contributes to the fund if employees make payroll deposits for six months without any withdrawals. It also contributes if employees go 12 months with no deductions, he says. The contribution amount is the same for all employees.
Out of 2,700 employees, approximately 1,200 are currently participating in Pitt Ohio's financial efficacy program, Fields says.
The savings accounts help employees prepare for unexpected events like auto or home repairs, and to take control of their personal finances, Fields says. The program also connects employees to the credit union to gain access to additional financial products like low-interest loans.
The emergency fund began October, 2016, and Pitt Ohio has a goal for its employees to save at least $1,100 during the first year. Ideally, employees will contribute enough to build a safety net that could cover their living expenses for six-months, he says.
As part of the program, Pitt Ohio contracted with a national financial consulting firm, GreenPath, to give employees — and their significant others — free and confidential financial advice. The program works similarly to an EAP where any correspondence between employees and the consulting firm stays anonymous.
Financial experts from GreenPath are available to employees during evenings and on weekends to provide advice, such as how to get out of credit card debt, Fields says.
"I think a lot of people out there are happy to have financial advice," he says. "This is something we are doing that's different. It is not a high-tech solution, but something we can do for our employees to make their lives better."
As to whether the financial efficacy program has yielded improvement in safety and other measurables, Fields says "it's way too early to tell." The results may be difficult to separate from the other job benefits Pitt Ohio provides for employees, he explains.
"We look at this as part of our employee wellness program. We are probably one of the few employers that do this."