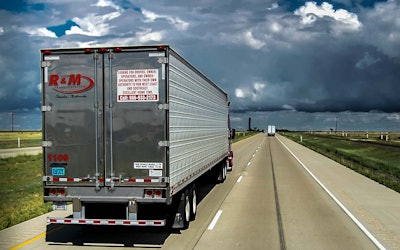 Rush Enterprises CEO and President Rusty Rush sees a bleak coming year for the Class 8 truck market, but he believes other segments of the industry should remain steady.
During a press event at the Rush Enterprises Tech Rodeo Tuesday, Rush predicted that Class 8 orders would remain down due in large part to low used truck values.
"I don't see used truck values getting any better in the first half of next year," Rush said. "Maybe by the end of the year. But, if the electronic logging device mandate comes into play, it could take even more trucks out of the market and those could turn into used trucks. And we need the import market to improve. We need to be chewing up a lot of inventory right now — and there's a lot of it sitting on the sidelines right now."
Rush thinks certain segments, however, such as construction and refuse will remain strong.
"For us, refuse continues to be strong," Rush says.
"The medium-duty has been good the last two years and we expect that to continue."
But, Rush was quick to point out that over-the-road trucks still make up 70 percent of the commercial truck market so that is a key segment to the industry.
"Class 8 has always been volatile," he says. "Over the road is going to be tough again."
Rush also says, that despite some setbacks, he still believes in alternative fuels and would like to see advances made on that front in the coming years.
"There are markets where it will play," he says. "The areas where you keep trucks longer and it takes longer to get your (return on investment) it can play."
As for Rush Enterprises, Rush says the company will continue to look to expand where it can.
"We will continue to look to expand our footprint where the opportunities make sense," Rush says. "We opened three or four locations in smaller markets this year."
The evolution and technology inside the trucking industry has made retaining and developing highly qualified service technicians more important than ever, he says.
"That service tech is the heartbeat of the company," Rush says. "No one goes to the service line happy and these guys are working to get the customers what they need and to get their trucks back on the road."
Rush believes the increasing complexity of trucks is something that "bodes well" for the company because he says investments in training and technology has prepared them for the future. He pointed to the recent advancements and developments at the Rush Care Call Center.
"It starts with training," he says. "If you have the best training, the best people and the best facilities, you should win the game."