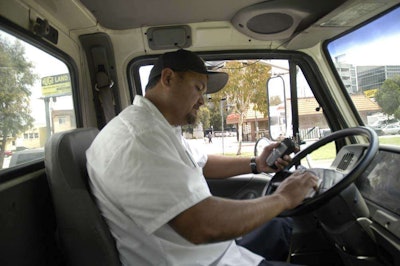 Escaping from an 8 to 5 work routine may sound appealing until reality hits. Truck drivers will have to plan ahead and catch a lucky break along the way to find a more agreeable schedule.
Nothing is certain in a workday that depends on traffic conditions, weather, available parking spots, remaining hours-of-service, appointment times and more.
One way drivers and fleets are trying to beat the odds is by using trip planning tools, especially with electronic logging devices (ELDs) creating added pressure to utilize time more wisely.
Besides drivers benefitting from planning tools, fleets are able to stay current on events that change the plan as the day progresses.
Truck parking
Some of the most popular features in mobile apps used by drivers are those that locate available parking spots along a route. Drivers can also use the same apps to check on fuel prices and get turn-by-turn navigation, among other useful tools.
Trucker Path Pro, for example, has more than 400,000 active driver users. The app gathers more than 136,000 weekly parking updates from drivers through a crowdsourcing feature. The updates are added to three years of historical data to predict availability at thousands of parking locations by day of week and time of day.
The parking availability information has been verified to be more than 90 percent accurate, the company says.
A Park My Truck app was recently developed by the Truck Parking Leadership Initiative, which is comprised of the American Transportation Research Institute, the American Trucking Associations and the National Association of Truck Stop Operators Foundation.
The app will allow any parking provider – public or private – to report parking availability, which is immediately made available to drivers using the mobile app.
Another popular app, Trucker Tools, has been downloaded by more than 390,000 owner operators and small carrier drivers to access information and services while on the road such as locating truck stops, monitoring diesel prices, getting truck-specific navigation, and more.
Trucker Tools has a Load Track feature used by carriers and brokers to track the GPS locations of shipments in transit as well as instant driver messaging, accurate arrival and departure notifications and near real-time ETA status.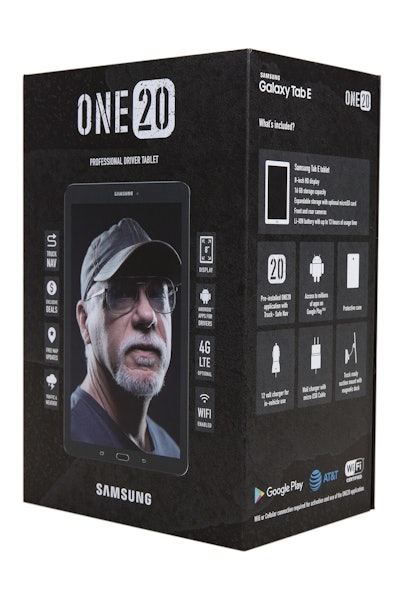 Another free app, My ONE20, includes navigation with trucker-friendly points of interest, weigh station status, map layers, search capabilities and ETA calculations that include HOS restriction estimates, travel times, traffic and speed.
The developer, ONE20, also offers a ONE20 Tablet that includes a truck-safe mount, charger and protective case for $399.99. Drivers can also subscribe to the accompanying 10GB per month data plan on the AT&T network for $79.99 per month.
Enterprise visibility
In September, TMW Systems announced a "comprehensive journey management" application called Trip Insight that synchronizes the trip planning of drivers and fleet managers to provide continuous visibility.
Trip Insight is a software-as-a-service (SaaS) that combines route optimization software running on a multi-tenant server in the cloud with ALK CoPilot Truck navigation application on PeopleNet mobile devices in the cab, and the TMW Suite transportation management system in the office.
From a user's perspective, Trip Insight — when activated — appears as a tab in TMW Operations, a program fleet managers use for planning loads and dispatching drivers.
By clicking on the Trip Insight tab, a planner sees an optimized trip plan—including recommended locations for HOS breaks and fuel — for the selected driver with ETAs for each stop, in sequence.
Once a dispatch assignment is finalized, the optimized trip plans are sent to PeopleNet devices.
As the route progresses, ETAs for each stop are visible to drivers and fleet managers. They change dynamically as the planned route progresses, and as real-time traffic and weather data from ALK are brought into the calculations.
Trip Insight also calculates PTA, the projected day and time that drivers will be available to start their next dispatch assignment. The new system is scheduled for release in the first quarter of 2017.
As mobile technologies continue to evolve, fleets are able to deploy trip planning tools that give drivers some control over their work schedules and routing preferences while maintaining total visibility.