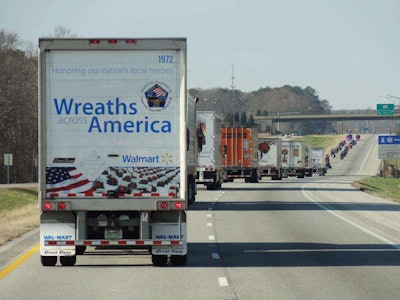 MacroPoint is giving tracking updates of the Wreaths Across America (WAA) convoy that will deliver over 1.2 million remembrance wreaths to Arlington National Cemetery and over 1,200 additional locations for National Wreaths Across America Day ceremonies on December 17.
MacroPoint is a creator of patented freight tracking software designed to give shippers, brokers, 3PLs and carriers real-time visibility into load status. The company is helping the WAA dispatch operation to follow the progression of the 350 trucks traveling to locations across the country.
MacroPoint is also tracking the convoy to Arlington National Cemetery on a dedicated Wreaths Across America Tracking Page, which features a map that is updated every hour with the location of the trucks.
"Delivering over 1.2 million wreaths is a massive undertaking that couldn't be done without the trucking industry," said Glynn Spangenberg, senior vice president/general manager of MacroPoint.
For the annual WAA program, MacroPoint works closely with Truckload of Respect, an outreach project conducted and managed by the Truckload Carriers Association to ensure that every remembrance wreath donated for placement on a veteran's grave as part of the Wreaths Across America project is delivered to its destination without cost to the charity or the cemetery.
Wreaths Across America carries on a tradition started by the Worcester family of Harrington, Maine, in 1992. The organization is dedicated to honoring and thanking United States veterans for their service and sacrifice.