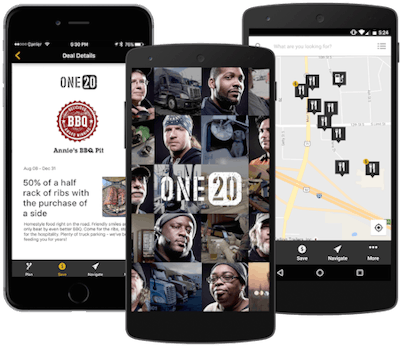 Many non-asset third party transportation and logistics providers (3PLs) require carriers to provide electronic load tracking updates. Technology has made the requirement easy to meet for carriers of all sizes.
Nearly all drivers carry smartphones and can download approved freight tracking apps. They could also use their phones to comply with the Electronic Logging Device (ELD) rule and provide 3PLs and freight brokers with tracking information.
C.H. Robinson, one of the largest 3PLs in North America, had been fielding a lot of questions this year from owner-operators and small carriers about what ELDs they should use, says Kevin Abbott, vice president, North American Truckload at the Eden Prairie, Minn.-based company.
The company is not in the business of regulating carriers, but the interest it saw from carriers in ELDs led to an opportunity to partner with an ELD provider.
In the second quarter of 2017, C.H. Robinson did business with 47,000 carriers. The company requires all of its carriers to provide hourly location updates on loads. Some will send the updates automatically by using the direct API connections that C.H. Robinson has established with their ELD providers.
C.H. Robinson also has two apps, Navisphere Carrier and Navisphere Driver, that contract carriers can download to meet its tracking requirement. The Navisphere Carrier app has additional features to search for loads and to submit paperwork for payment. A lighter version of the app, Navisphere Driver, has track and trace functions only.
In July, C.H. Robinson announced a partnership with ELD maker ONE20 to offer contract carriers that operate 10 or fewer trucks — a group that makes up more than 75 percent of its carrier base — the ONE20 ELD for a discounted rate currently at $117.99 (retail is $169.99) and no monthly service fees.
Few ELD products have no monthly service fee. Normally, ONE20 charges a fee for carriers with more than three trucks, but waives the fee for C.H. Robinson contract carriers.
"Some ELD units may be cheaper but they charge a monthly service fee and that becomes untenable for a small business," says Kevin Abbott, vice president, North American Truckload, C.H. Robinson.
The ELD product from ONE20 comes with a hardware unit and cord that connects to the diagnostics port under the truck dash. The hardware communicates wirelessly with a ONE20 app on the driver's phone.
As an additional value, any carrier that buys an ELD from ONE20 gets a free roadside assistance package. If a driver is hauling a C.H. Robinson load, the roadside assistance package is "even better" he says.
The ONE20 app comes with additional features that drivers use to connect with other drivers, to plan truck-specific routes and save with deals along the way.
C.H. Robinson is working toward an integration with ONE20 to capture hourly tracking information from its app and plans to expand the integration to send loads to the ONE20 app for carriers to search, he says.