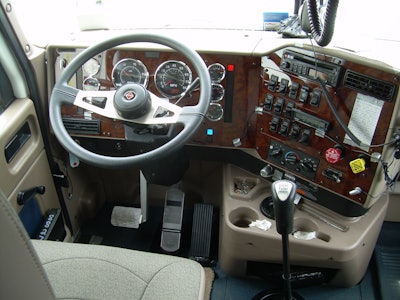 Within the first 90 days of starting a job, 33 percent of drivers will leave their carriers and an additional 22 percent will quit within 180 days.
The main reasons why drivers leave in the first 90 days are a lack of industry experience, mismatched job expectations — particularly with respect to home time — and relationships with dispatchers.
These and other findings come from Stay Metrics and its analysis of more than 24,000 active drivers and 80 motor carrier clients that contribute data to its driver engagement and analytics platform.
Research by Stay Metrics shows drivers who quit in 90 days have one or more of the following traits:
Inexperience: 77.3 percent.
Low recruiter satisfaction: 56.4 percent. An even greater percentage (64.3) of drivers dissatisfied with their carrier's recruitment process left after one year.
High degree of work-family conflict: 60.2 percent.
Home less than expected: 93.4 percent.
Low dispatcher satisfaction: 72.3 percent. Turnover among drivers dissatisfied with their dispatchers is even higher among those with little industry experience.
Tim Judge, Director of Research for Stay Metrics, offered a theory of why a higher percentage of drivers with low recruiter satisfaction quit after one year:
"Drivers will cut their recruiters some slack early on since they are still learning about the job," says Judge, Ph.D., who is the Alutto Chair in Leadership Effectiveness, Fisher College of Business, at The Ohio State University. "If they still feel dissatisfied after a year, that is when they know it is a broken promise."
To better manage driver expectations, Stay Metrics recommends carriers have a single, consistent recruiting message and repeat it verbatim during their orientation and on-boarding period. The message should include specifics for what drivers can expect for earnings and home time, among other important areas.
To help motor carriers reduce early driver turnover, Stay Metrics gathers candid feedback from drivers at the critical 7-day and 45-day periods of employment. It also conducts exit interviews as a neutral third party on its clients' behalf.
The company provides an in-depth annual driver satisfaction survey that identifies areas of strength and weakness in their organizations. The report shows year-over-year trends and comparative analytics to industry peer groups.
Results from the annual survey data can be fed to a predictive index, customized by client, that determines which areas of job dissatisfaction are predictive of driver turnover for that particular carrier. The analysis can assist with longer-term strategies to lower turnover and maintain success.
Stay Metrics also administers a custom, online driver rewards and recognition program for clients. Its research shows drivers who engage in a carrier's rewards program are nearly twice as likely to stay employed.
The company says that carriers that use its driver engagement platform and act on the surveys and driver feedback data consistently improve their driver turnover rate by an average of 10 percentage points in the first year.