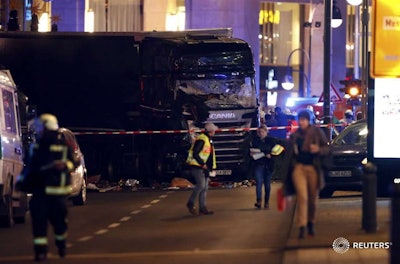 Tragic images after truck slams into a Christmas market in Germany. #Berlin pic.twitter.com/Q4Qokfth8d

— Fox News (@FoxNews) December 19, 2016
The Scania tractor-trailer used in the deadly terror attack in Berlin, Germany, on Monday was hijacked, according to a report from Britain's The Independent, citing the owner of the trucking company whose truck was used. The truck had Polish plates, and a Poland-licensed driver was found dead in the passenger seat of the truck, according to reports.
The Independent reports the trucking company's boss says driver Lukasz Urban was shot and killed before the still-unidentified attacker drove the truck and curtainside trailer into a crowded Christmas market. Twelve have been reported dead and another 50 injured.
The truck was loaded with steel and was en route from Italy to Germany, according to the report. The attack is similar to another terror attack carried out in July in France, when a straight truck drove into a crowd on a boardwalk, killing 86 and injuring hundreds more.
A Pakistani man was arrested Monday after the attacks, but German police freed him Tuesday, citing a lack of evidence for his arrest and captivation.
ISIS has claimed credit for the attack.