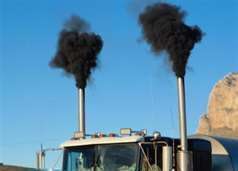 The U.S. Environmental Protection Agency (EPA) this week responded to petitions filed by 20 state and local government agencies from across the country and other organizations seeking tighter mandates in an effort reduce NOx reductions from commercial trucks.
It has been 16 years since EPA last revised its NOx standards for heavy-duty highway engines and the petitioners, including the California Air Resources Board (CARB), claim technologies now exist to further reduce emissions.
In its response, the EPA says it recognizes "a need for additional NOx reductions from this category of vehicles and engines, particularly in areas of the country with elevated levels of air pollution."
"EPA believes that opportunity exists to develop, in close coordination with CARB and other stakeholders, a new, harmonized and comprehensive national NOx reduction strategy for heavy-duty on-highway engines," the agency write in in its response this week.
The EPA intends to issue a Notice of Proposed Rulemaking for tighter standards aimed at Model Year 2024.
"New model year 2024 standards would coincide with both the latest timing stated in the petitions and also an important model year for the implementation of the heavy-duty Phase 2 standards," the response reads.
The EPA has committed to working with EPA truck and engine manufacturers, suppliers, state/local/tribal air quality agencies, NGOs, labor and the trucking industry as a whole as rulemaking moves forward.