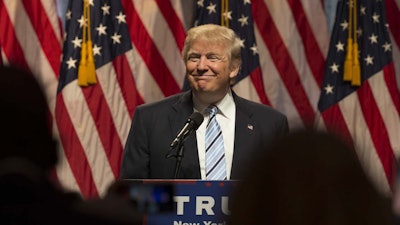 Every year the University of Alabama (yes, THAT university in Alabama) – the one where Forrest Gump went to college; the one whose fans greet one another in airports around the world with "Roll Tide" like it's "Aloha"; and the same one it seemingly takes a court order to keep out of the college football playoffs – publishes its predictions for the coming new year.
I've always enjoyed reading their "Educated Guesses," which are postulated by staff and faculty at the university in each of their fields of expertise. Their hit-to-miss ratio is about as consistent as a March Madness bracket but it's quality entertainment and thought-provoking.
Of course, much of their 2017 predictions focus on what might happen in and around the White House as the wildest of wildcards, Donald Trump, gets ready to lead us through the next four years.
Dr. Joseph Smith, associate professor and chair of the political science department at The University of Alabama, says that despite a Republican-controlled Congress, President-elect Donald Trump is not likely to easily find common ground with lawmakers.
"This is partially because unified party control of the national government never works as smoothly as many people expect, and partially because Trump is outside the mainstream of the Republican Party and American politics in general," he says, adding he expects Trump's lawmaking agenda will be stymied.
Likelihood he gets this one right: High. Most presidents don't get a free pass with Congress just because their party holds the majority. Add in Trump's penchant for divisiveness and this one is a slam dunk.
Turning attentions to 1 First St. NE, Washington D.C., Dr. Allen Linken, assistant professor of political science at the university, says that whomever President-elect Donald Trump selects as his nominee for the Supreme Court, the person could possibly help weaken the freedom of the press – bad news for guys like me.
Linken says he expects the nominee to also potentially seek to weaken freedom of assembly by "restricting dissent by groups and freedom of expression by criminalizing flag-burning." Citizens found to be misusing any of these freedoms, Linken predicts, could lose their citizenship.
Likelihood he gets this one right: Low. Come on! Trump's blustering against the media was great political fodder but we have more than one Supreme Court Justice for a reason, and any Trump nominee would still have to be confirmed. I can't see a candidate hell-bent on undoing the first amendment in the Bill of Rights – and who supports exiling offenders like this is medieval Iceland – getting out of the first round.
Dr. Stephen A. Borrelli, professor of political science, predicts President-elect Donald Trump will not change his ways on Twitter. That's really putting yourself out there, Doc.
Likelihood he gets this one right: Bank it. I think Dr. Borrelli is that guy in Vegas who puts $1 on all 32 teams to win the Super Bowl.
Despite Trump's promises to go full-on bull in a China shop on Obamacare, Dr. Lawrence Powell, director of The University of Alabama's Center for Insurance Information and Research, foresees a combination of executive and legislative actions that make only subtle changes.
"Such changes will move toward preferences stated by President-elect Trump on the campaign trail; however, premium subsidies for low-income families will not decrease substantially," Powell predicts.
If cost sharing provisions are strengthened and/or prices become more transparent, the rate of premium increases will moderate or reverse, he adds.
Likelihood he gets this one right: High. Obamacare was going to change under either a Clinton or Trump administration and regardless of how well you think it works, blowing it up was never a realistic option.
That we know of, Donald Trump has no military experience beyond playing hours of Halo on the X-box, but a couple of his proposed cabinet members make up for that.
Retired Gen. James Mattis has been tapped for secretary of defense and the Secretary of Homeland Security nominee is retired Gen. John Kelly.
Lt. Gen. Michael Flynn got the nod for national security advisor, but that is not a cabinet spot and he doesn't need Senate confirmation.
Linken, who launched two predictions on this list, says Trump's military-heavy cabinet could impact civil-military affairs, adding it bears watching to see if "the retired military officials can exert power and serve the executive instead of becoming entrenched in a military mindset that causes the checks implemented by requiring civilian leadership over the military to be co-opted."
Likelihood he gets this one right: Push. I don't see both of these guys making it out of the confirmation process as lawmakers look to balance the military-civilian dynamic. We can circle back to this one when we see who makes the cut.
If politics aren't your thing, not every called shot for 2017 circled the White House. For you fashion conscious out there, Brian Taylor, an instructor in The University of Alabama's clothing, textiles and interior design department, says shades of pink will feature prominently at runway shows along with novelty prints and stripes. And brace yourself for the return of puffy sleeves.
Likelihood he gets this one right: I'm already fluffing my pink sleeves.