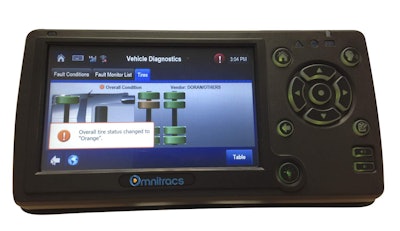 Commercial trucks are no strangers to Environmental Protection Agency regulation but with Phase 2 heavy-duty vehicle fuel-efficiency and greenhouse gas standards going into effect next year, trailers for the first time are being scrutinized for their contributions to freight efficiency.
Phase 2 rules target primarily box van trailers and require reductions of 3 percent to 8 percent in fuel consumption and CO2 emissions, depending on the trailer type.
A variety of technologies, including low rolling resistance (LRR) tires, automatic tire inflation systems (ATIS), tire pressure monitoring systems (TPMS), aerodynamic skirts and kits and weight reduction can be used in the march toward 8 percent and many of these methods compound their benefits.
For example, Al Cohn, director of new market development and engineering support at Pressure Systems International, says benefits from tires and associated monitoring systems can be added together.
Cohn served as a subject matter expert for a Technology & Maintenance Council online webinar Thursday.
Since ATIS systems monitor and automatically adjust pressures when tires drop below programmed setting, Cohn says that benefit would be aggregated with the benefit of LRR tires.
"If you spec ATIS with LRR as a combination, you get an additional 1.2 percent credit," he says. "With TPMS, you get a lower credit, but still get a 1 percent credit."
Cohn says the credit for TPMS is lower because, unlike ATIS, TPMS doesn't make the pressure adjustment as it's needed. It simply notifies the driver that one should be made.
"Human intervention is required to input air," he says.
The new standards apply to all trailers sold in the U.S. regardless of where they are produced.