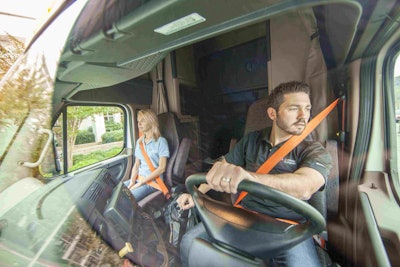 One the hottest trends in fleet technology is the automation of driver risk management.
CCJ has recently covered a number of technologies that give drivers real-time feedback and coaching in the cab for behaviors their employers consider risky or wasteful.
Technology also automates the next step as well. If drivers choose to ignore the real-time feedback, or if the problem continues, software applications automatically assign training modules to drivers.
Once drivers complete the training through mobile devices, applications monitor driver skills and behaviors for signs of improvement. Only then if the problem persists will management be alerted.
By automating these initial steps of driver risk management, technology lightens the workload of fleet managers to focus more time and resources on the most critical areas to make the biggest impact.
Coverage of this trend continues with new developments from companies that provide video-based safety, driver training, and telematics platforms.
Rapid response
Video-based driver safety platforms have become mainstream. The technology goes beyond capturing driver behaviors like speeding or "hard braking" from the vehicle electronics. Video adds new risk observations to the list of data to manage such as driver distraction and cell phone use.
SmartDrive, provider of a video-based driver safety intelligence platform, has added an optional feature in its web-based SmartIQ Suite portal to help fleet managers more quickly assign training modules to drivers for common risk observations.
Examples might include texting, speeding or unsafe following distances.
Fleets that use Pro-Tread driver training modules from Instructional Technologies, Inc. (ITI), for example, typically have these modules stored on in-cab computing devices from Omnitracs, PeopleNet and other providers.
SmartDrive has mapped 10 Pro-Tread modules to its most common risk observations, says Jason Palmer, president of SmartDrive. Each of the Pro-Tread modules takes between two and five minutes for drivers to complete.
Fleet managers see the training recommendations in SmartIQ Suite and assign modules to drivers using Pro-Tread's online learning management system. Alternatively, fleets can upload their own training content to SmartDrive's e-learning center and assign it directly from within SmartIQ Suite, he says.
In either case, the fleet manager gets a notification once the driver has completed the training. Next, the manager closes out the coaching event in SmartIQ Suite. The training event is then recorded in the driver's coaching history, and SmartDrive monitors subsequent driver behavior for improvement.
Through this process, SmartDrive keeps a "training effectiveness score," he says, that fleets use to gain additional insights into their training and coaching programs.
On to better training
Online driver training modules are often created on the assumption that "one-size-fits-all."
One company, Luma, is breaking this mold by matching the instructional design of training to the learning culture of drivers and individual learning preferences.
Luma got its start in trucking by developing a suite of driver training modules for safety, health and wellness in partnership with StayMetrics. Fleets that use StayMetrics' online driver loyalty and rewards program typically give drivers points for completing the modules voluntarily, thereby increasing driver engagement.
Luma also works directly with fleets to develop custom training modules. The company is seeing more demand from fleets to integrate their training modules, on demand, with driver performance and risk management systems, says Scott Anderson, chief operating officer of Luma.
Luma's training modules use a combination of animated video, text, audio and interactive game elements. The training platform captures feedback from drivers as well as data analytics, which Luma uses to continuously improve the learning experience for drivers, he says.
Predictive coaching
Geotab provides an "open telematics" platform that comes with a low-cost device — the GO7 — that installs in trucks. The device sends vehicle, engine and driver performance data in real time to a web-based fleet management portal.
Geotab has a number of options to automate driver risk management. The platform integrates with numerous products from third party software developers that are available through the online Geotab Marketplace. Two of these products are highlighted below.
A real-time driver coaching app, Go Talk, can be used by fleets to reinforce safety and compliance policies. The app lets fleets create custom, audible alerts, for driver behaviors like speeding, hard braking and more.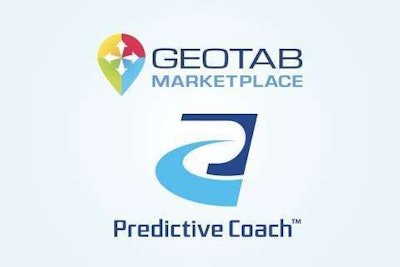 Another app, Predictive Coach from RMJ Technologies, can be used to automatically assign training modules to drivers by setting up a custom rules engine. The system can automatically assign a training module on speed, for example, if a driver has three speeding exceptions in a 7-day period.
A driver would get a notification and login to an online portal to take a training module. If the driver fails to take the training, then a report is sent to the supervisor.
"Supervisors only get involved when it gets escalated to their level," says Colin Sutherland, executive vice president of sales and marketing for Geotab.