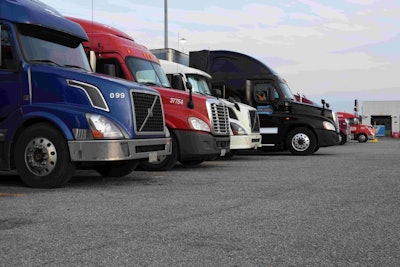 The time drivers spend, or waste, searching for truck parking is not captured by electronic logging devices, telematics systems or other mobile technology.
To find the productivity impact of parking activities, the American Transportation Research Institute (ATRI) had to use an old-fashioned method. They asked truck drivers to keep parking diaries.
Between June and September, 2016, ATRI collected 148 diaries. Each contained a 14-day record of parking activities at locations nationwide.
Researchers discovered from the diaries that truckers lost 56 minutes per day, on average, to search for parking to take required hours-of-service breaks and for other reasons.
A number of new technology and services aim to help fleets and drivers regain lost productivity and increase job satisfaction for parking-related activities.
Truck stop reservations
The ATRI study found that drivers predominantly use websites and smartphone applications (55.5 percent) to find parking along their routes. Nearly half said they previously have used parking reservation systems, and 15 percent said the fees are covered by their carriers.
All major truck stop chains now have mobile driver apps. One of the most recently functions being added to the apps is real-time parking information and reservations.
Travel Centers of America provides available parking counts for TA and Petro locations through its free TruckSmart driver app. The counts show "total parking spaces" by location and "available parking spaces." The information is refreshed every two hours.
The company has a Reserve-It parking program in the app that enables drivers to reserve parking spots. In early 2017, Travel Centers of America plans to add similar functionality to its website to allow fleet personnel to order and pay for spots, says Tom Liutkus, senior vice president of marketing and public relations.
The cost of parking reservations at TA-Petro locations varies, but currently averages around $12 to $13, he says.
Pilot Flying J launched the MyPilot mobile app in August, 2016. A popular feature enables "cardless" fuel transactions. Currently more than 36,000 fuel cards are registered in the app that drivers use to conduct more than 3,000 daily fuel transactions.
Parking availability and reservations will be available in the app in the first quarter of 2017, says Ken Parent, president of Pilot Flying J. To enable these functions, the company has installed parking sensors in 28 locations to provide accurate, real-time parking availability information, he says.
"Hopefully it helps drivers be more productive and not waste time running through truck stops," said Parent during a media conference call on Dec. 7.
Entertainment options
Searching for parking is not the only type of unproductive driving activity. Some factors unrelated to parking shortages might be causing drivers to stop too frequently or extend their stays.
Perhaps it could be local attractions or amenities of certain parking locations, or the opportunity to watch a favorite TV show or NFL game in the sleeper bunk.
About 2.5 years ago, EpicVue launched a DIRECTV service for fleets. The service is offered in contracts of three or five years with a flat monthly fee, per truck, that starts at $50 for the five-year contract.
The EpicVue subscription is full service and includes equipment and maintenance for the mobile antennas, 24-inch televisions, DVR receivers, and more than 100 channels with premium HBO, Showtime and NFL Sunday Ticket.
In the beginning, fleet owners were very receptive to this offering but concerned they would lose productivity, says Lance Platt, the company's CEO.
"There was a real concern in the beginning that drivers would watch too much TV or be drowsy," he says. After 2.5 years, "we have yet to hear a single complaint or concern around either of those."
One of the reasons why productivity has not been an issue is that drivers can record up to 600 hours of content on the DVR. They can therefore watch shows during times that do not conflict with work schedules, and fast-forward through commercials.
EpicVue recently surveyed about 50 drivers and asked how much time they spend watching TV each day. One hour per day was the average response, he says.
EpicVue has a stationary product that streams and records programs only when trucks are parked as well as an in-motion product ($10 more per month) that lets drivers record shows while moving.
The in-motion product is most popular among fleets with team drivers, as live TV can be viewed and recorded in the sleeper bunk. More fleets with solo operations are choosing the in-motion product as well, he says.
It appears that new technologies and services that address truck parking activities are able to improve both driver productivity and satisfaction.