Paccar is taking the next step toward an integrated power train with the launch of a proprietary drive axle optimized for line haul applications.
Offering axle ratios of 2.47 to 3.7, Kevin Baney, Kenworth chief engineer, says the Paccar new axle will be a Kenworth standard going forward.
"This will really be our fleet application," he adds. "If you get in to super-fast ratios as you get into downspeeding, we'll utilize the axles that are out there with Dana and Meritor."
Baney says the unveiling of a drive axle gives Paccar two-thirds of the components needed to vertically integrate the company's tractors.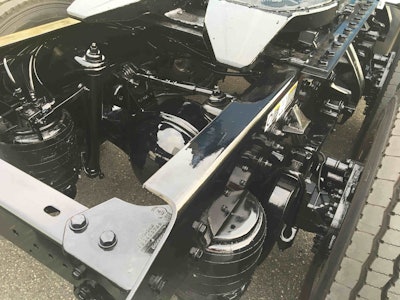 "This is setting the stage for a Paccar power train. We've got two of the three major components now in place," he says.
Efficiency gains come from a pinion through-shaft and laser welding on the inside, which improves friction and reduces weight with the elimination of bolt-on components. Lighter weight – up to 150-lb. weight savings overall – comes from a reduction of oil inside, Baney says, fewer components and the geometry of the through-shaft.
"I think [friction reduction] is the holy grail now within all the axle components. You can do a lot to reduce friction, but it comes at a cost," Baney says, noting challenges that come with balancing costs and efficiency. "This [axle] will be the most efficient out there."
MX-11, MX-13 get new ratings
Also for 2017, Paccar is offering two different turbos on its engines – one each for horsepower ratings above and below 485.
"It's really about optimizing horsepower and torque for those two scenarios," Baney adds.
Paccar's MX-11 will get a peak torque bump of about 100 foot pounds from 1,550 to 1,650.
"[The MX-11] is going to become a nice line-haul engine for us when you think about that 1,650 and the weight reduction that provides," Baney adds. "I think fleets will be pleasantly surprised with the power that comes from that."
The MX-13 gets a horsepower boost to 510, up from 500, and 1,850 foot pounds of torque.
Paccar engines will also feature a single-cylinder air compressor. Additionally, injectors and pistons have been tuned and refined, and both oil and coolant pumps will now be variable speed.
"Coolant based on need," Baney adds, "and oil [based] on pressure and temperature. When you get to that next level of improvements, it's really about on-demand."
Paccar will also transition to a single-can after treatment, integrating the DPF, SCR and DEF pipe all into one canister.
"It helps with chassis packaging and also weight reduction," Baney says.