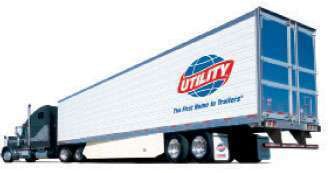 Utility's trailer production hit 46,000 units last year – the second highest production year in the company's history – and overall market share reached 15.9 percent.
Of last year's production output, 55 percent were reefer trailers, 41 percent were dry van and flatbed made up another 4 percent.
Craig Bennett, senior vice president sales and marketing, says the company added four new dealership locations in 2016, while another eight expanded or moved into newer facilities.
"We put a lot of pressure on our dealerships to provide the parts and service that are required for trailers," he says.
Additionally, Utility Trailer Sales of Oregon recognized with Climate Champion Award.
Utility boasts a dealer network of 113 rooftops spread among 44 dealers in North America, offering full service parts and maintenance.
"About a third of them have one location," Bennett says. "Were seeing a consolidation trend of dealers where the weaker dealers are being purchased by the stronger dealers … and running lower cost operations."
Plans for new dealerships in Atlanta, Omaha, Neb., and Davenport, Iowa are underway.
Bennett says the company is optimistic about 2017, noting trailer buy cycles are already longer than normal.
"We're coming off six good years in the industry," he says noting a usually good cycle lasts only 5 years. "The marketplace is growing."
Bennett notes the dry freight market will be challenging versus the overall health of the refrigerated market.
The company forecasts production to dip to a little more than 40,000 units in 2017, which could still be the third highest level in the company's history.