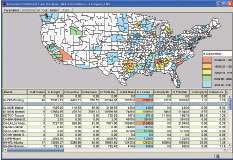 project44 and McLeod Software have launched an integration that delivers McLeod PowerBroker users access to project44's Less-than-Truckload (LTL) API-based transportation solutions.
The partnership supplies PowerBroker users instant and normalized carrier data directly from the capacity providers connected into the project44 network. A Chicago-based company, project44 provides a modern connectivity replacement to legacy systems such as EDI and rate bureaus.
Ultimately, the companies say the new connectivity offering reduces McLeod's LTL customers' administrative costs while increasing their productivity and improving strategic relationships with their customers and capacity providers.
The API-based transactions available within the PowerBroker interface include:
Accurate carrier quotes with base rates and accessorial charges.
Lane-by-lane transit time calculations that include weekend and holiday days.
Load tenders and real-time shipment status updates from the connected LTL carriers.
"The new capabilities that project44 is bringing to the market will clearly offer a competitive advantage to logistics companies who are managing LTL freight for their customers," said McLeod Software Founder and CEO, Tom McLeod.
One such client already leveraging project44's solutions within the PowerBroker Interface is England Logistics, Inc., a subsidiary of C.R. England.
"project44's partnership with McLeod allows us to embrace modern technological capabilities without having to devote significant internal development resources," says Michelle Potter, senior director, strategic development at England Logistics. "It has been clear from the start that the Rating, Dispatch and Tracking services are going to save us a lot of money, while also delivering more accurate shipment data than our previous legacy systems provided."
The project44 service offering is available in McLeod Software's PowerBroker Version 16.2 and above.