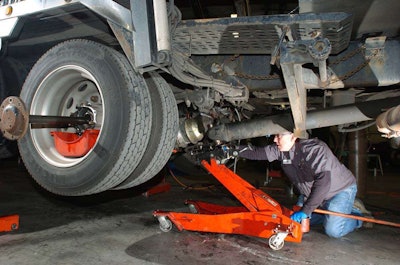 The complex technological sophistication needed to service a wide product mix, coupled with the expensive infrastructure needed to support them, has an increasing number of fleets relying on third-party partners to manage at least part of their truck maintenance.
Among the benefits of vendor-based maintenance is removing the financial burdens associated with staffing technicians, along with the added expense of buying specialty equipment, tools, computers and software license fees that can put additional strains on profits.
"One of our greatest challenges is finding, developing and retaining good quality technicians," says Joe Puff, vice president of truck technology and maintenance for NationaLease. "It's not unusual for a shop to spend $100,000 a year on technician training. A shop really needs a steady flow of each specialty workload to make these investments pay off."
Six-figure training expenses are the norm industry-wide if you're trying to keep up with current technology, and Puff says cutting corners on training will result in added downtime.
"If a shop takes shortcuts on schooling and tooling it can be an extremely costly mistake," he says. "Misdiagnosis, circumventing proper protocols and lack of knowledge may not show up right away. In many cases these inefficiencies can go on for years and may never be uncovered. Often the root cause is unfairly pointed at OEMs, drivers, component parts and so on."
The significant investment, coupled with the complexities of maintenance, make it difficult for a fleet to maintain their own vehicles unless it's a core competency of the business.
Using the medical industry as an analogy, Puff says the same principal is why you go to a family doctor for routine and preventive care but go to a cardiologist for heart and vascular concerns.
"The family doctor may be able to treat some cardio concerns but may not be schooled and tooled to be classified as a specialist," he says. "The cardiologist invests a lot of time in targeted training to be a cardio specialist and therefore may not be the best person for routine care."
If vehicle maintenance is not a core competency, Puff says a fleet should consider farming it out.
"Each medical provider has their place in providing medical care. So does a commercial shop trying to keep up with all the vehicle repair specialties," he says. "A shop can go broke trying to make technician specialists for each complex function or component."
Since truck maintenance isn't a revenue stream for most fleets, partnering with a vendor also allows truck companies to focus on the things that drive profits, like moving freight.
"It allows you to focus on the core business and not have to worry about the maintenance," says Mike Maudlin, vice president and general manager of Orlando, Fla.-based Maudlin International Trucks, "and focus on selling yourself and the product that you can make money on."
"A service contract for a fleet can allow for an organization to focus on the core business and let someone else deal with the complexities of maintaining the fleet," adds Taki Darakos, vice president of maintenance for Transervice Companies. "It's important to partner with an organization that can support the fleet properly leading to better economics."
Maintenance contracts
Rick Tapp, maintenance manager for Paccar Leasing Company (PacLease), says contract maintenance typically offer two general paths.
One is guaranteed, which functions similar to a full service lease the terms of which can range from three to seven years.
"The other path is 'pegged maintenance,'" he says, "where services received are from a menu of services. There is agreed parts and labor pricing, along with level pricing coupled with a quarterly or annual reconciliation of cost, with a lump sum payment or credit."
Puff says some maintenance providers can also provide substitute vehicles, 24/7 emergency service, washing and licensing.
"At NationaLease these maintenance options are very customizable to providing solutions that match a fleet's specific needs," Puff says. "These options are designed so customers can decide which options make the most sense for them without paying for things they don't need."
Contract maintenance can also take a lot of the stress off a fleet's maintenance personnel, especially if that business can offer warranty repairs.
"Contract maintenance with a dealer helps you forecast your maintenance expense," adds Scott Dixon, service operations manager for Montgomery, Ala.-based Four Star Freightliner.
"[Fleets] want that line in the sand that they know what it's going to [cost]," Maudlin adds.
Darakos says service contracts are great for organizations that understand that maintenance is important to the success of the core business, but do not want to get into the business of maintenance management themselves.
If servicing and maintenance is out of a fleet's comfort zone, Tapp says it may be better to engage in a preventive maintenance only service.
"You may not want to sign a full maintenance contract," he says. "Just pay as you go."
Full service contract with a national reach can unlock an entire service networks to previously negotiated rates.
Maudlin's dealership is an IdealLease affiliate, and if one of his customers has an issue on the road, IdeaLease will direct the truck to the closest location for repair.
"IdealNet will direct truck to closest location and then notify the dealership the truck is on the way with the make, the VIN and all the information we need to start assessment before the truck ever arrives," he says. "We just do the [maintenance] work."
Maintenance contracts work on a negotiated price for labor and can cover a range of services from preventive maintenance, to oil changes to full service and can allow for customization that lets the fleet better manage its costs by negotiating agreed upon rates on the front end.
"In most cases the a la carte portion [of a contract] would look like the following: PM only; PM and repairs; tires included or not; washing included or not," Tapp says. "There are numerous other menu items, such as fuel, fuel tax reporting, licensing, insurance, centralized billing … All of these would be value-added services wrapped around the operation of the fleet of vehicles."
Data collection regarding the operational characteristics of the fleet, Darakos says, is important in building out the parameters of the agreement.
"A fleet inspection is recommended and typically done on the front end," he says. "It helps level and set the relationship. A baseline is established and any noted deficiencies would be discussed and addressed through a mutually agreed upon plan."
Dixon says it's often easier for dealers to price contract maintenance on regional fleets due to the predictability that those trucks will most likely always be within a given dealership's footprint.
For nationwide carriers, many OEMs offer contract maintenance through their dealer-based warranty systems and offer reciprocation services; meaning any dealer branded by your OEM can perform services at the predetermined rate, even if its not "your" dealer.
"No matter where you are, it's like warranty work," Dixon says.
Turing to your dealer
Dealer-based maintenance can be attractive because there's already a relationship between the two businesses. If you don't want to be locked into a contract, that history can be comforting when coupled with the OEM brand equity the dealer can provide.
"Dealers get all the factory ties," Dixon says. "Whenever somebody buys a truck, there's always the hidden aspect of support."
The hidden value of support often reveals itself in instances when a dealer has to go to bat for a customer over an issue with an OEM.
"If somebody uses a dealer for service operations, if there is an issue that might go outside of warranty – maybe it's in what I call the grey area, where it's not the unit's fault, it's not the customer's fault and it's not the dealer's fault – a dealer can get the involvement of the OEM rep," Dixon says. "A good dealer will call on the OEM and tell them 'we have to find a way to help this customer.'"
Maudlin adds dealer technicians have an advantage because they have more access to current training on their individual makes.
"[Dealers] have the highest trained technicians and we spend the most money on training," he says. "All OEMs make you buy the latest and greatest tools and go through the most current training, and it's ongoing. That's part of what you sign up for when you get your franchise."
Another benefit of dealer-based service, Dixon says, is the warranty that accompanies repairs beyond the part itself.
"Since a dealer installed it, you get warranty on the labor," he says. "So, if a part fails, a dealer would replace it at no cost. Whereas at some independent shops, the warranty would cover the part, but you'd have to pay, again, for the labor to fix it."
Recalls, unfortunately, are part of owning just about any vehicle and Dixon says by selecting a truck dealer-based maintenance service, you have a partner in helping manage that process.
"When you bring truck to a dealer they look up any campaigns, even for trucks out of warranty," he says. "Those campaigns don't cost you any money.
Selecting a service partner
Darakos says fleets should evaluate a potential vendor's national parts pricing; OEM relationships; customer base and references; technician training and certifications; maintenance software; a process driven culture that can scale to what is needed, along with details of the fee structure when picking a maintenance provider.
"Partners can vary from organizations like TA or Speedco to dedicated maintenance service providers like a Transervice," he says. "The service provider can either follow an existing maintenance program/schedule – possibly offering improvements – or leverage their relationships/industry knowledge and experience to develop the right program for the fleet. As a customer, you are paying for this expertise typically in the form of an agreed upon service charge or a fixed fee."
But simply farming out maintenance isn't likely to solve any issues if the fleet isn't equipped to organize the work and the trucks.
"Fleets that are looking at out-sourcing services should first see if they have tools internally to manage those," Michael Riemer, vice president product and channel marketing, at Decisiv, Inc. "If you're a local fleet and you don't have a lot of choices, you're first question should be 'who is in my area and what kind of services do they offer?'"
Riemer says fleets should talk with vendors about the types of tools and capabilities they have to provide the information and transparency they need.
"Do they have communication method that's not just not email-based," he says.