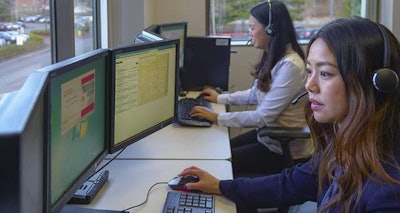 PacLease is bolstering its emergency roadside assistance program, PacCentral, and offering proactive service to reduce and keep downtime to a minimum for PacLease customers.
Jake Civitts, PacLease's director of franchise operations, says the advent of remote diagnostics through Kenworth TruckTech+ and Peterbilt SmartLinq, has enabled PacCentral operators to 'see' what's happening with newer PacLease units.
"With remote diagnostics that have been provided in our customers' vehicles since 2015, we're able to not only get the fault code, but also information on what's happening with the vehicle," he says.  "Remote diagnostics can tell us if it's safe for our customer to continue on to a nearby service location, or if the truck needs to be shut down immediately."
Civitts says the added diagnostic visibility, along with the company's Call Center, can help coordinate the proper course of action for customers, including locating the most appropriate service center, making sure the replacement parts are available and having trained technicians on stand by.
"And that means PacLease is able to triage the truck fast," he adds.
When drivers operating pre-2015 PacLease units call the PacCentral Call Center, the diagnostics and course of action are often handled in a conference call.
"Our operators are trained to handle the top driver questions – such as how to manually re-gen the DPF," said Civitts. "More complex issues are remedied by bringing in a service tech if the truck needs assistance and it's not a quick fix over the phone. Once we receive the call, we pinpoint where our customer's truck is located and determine the closest PacLease service location. Since we have more than 1,100 PacLease and other service locations in North America, the distances are often pretty close. We then get the location's service tech on the line to help determine the problem and course of action. In the event the truck is driven or towed to that location, that service rep is ready to begin the repair process."
Civitts says the majority of roadside assistance requests have a secured response and plan of action within 20 minutes of the call.
"And, we keep the driver informed as to what's happening with text messages," he said. "We keep the communication flowing. What's more, that communication can be in various languages – we have Call Center operators fluent in Spanish and French. Plus, we can get a translator on the line for any of 180 languages."
Civitts says he envisions a day where all PacLease trucks 'talk' with nearby locations and the Call Center.
"It's already happening now – our Call Center can be authorized to receive email notifications from the truck, and we in turn can be proactive in contacting customers, or their drivers, to alert them to issues with their trucks," he says. "By being proactive, we can continue to reduce downtime for our customers."