Dana Incorporated at the Technology & Maintenance Council's 2017 Annual Meeting in Nashville, Tenn., introduced a new axle ratio for the Spicer AdvanTEK 40 tandem axle.
Dana's newest and seventh axle ratio – 2.47:1 – is designed to support engine downspeeding for linehaul trucks
Ideally suited for direct-drive versions of Eaton and Cummins' jointly-developed SmartAdvantage Powertrain, the new ratio is recommended for regional-haul applications that travel interstate highways, secondary roads and urban operations.
Dana's optimized system for the SmartAdvantage Powertrain includes the Spicer AdvanTEK 40 tandem axle with the new axle ratio of 2.47:1, the SPL 250 driveshaft, and the SPL 170 inter-axle shaft. This system is designed to handle higher input torque from downsped engines compared with competitive powertrains, providing further weight and cost savings in select applications.
New, lighter driveshaft 
Also Sunday, Dana announced a new driveshaft for high- efficiency on-highway and heavy-haul vehicles with engine downspeeding configurations.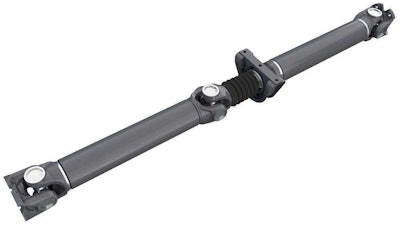 The SPL 350 Lite driveshaft is up to 35 pounds lighter than existing products, making it the lightest weight driveshaft in its class, says Steve Slesinski, director of product planning for the commercial-vehicle market at Dana.
It also shares service components with the existing SPL 350 driveshaft, simplifying maintenance and inventory for truck owners and service facilities, Slesinski adds.
Designed with 11 fewer components to reduce weight and enable faster, easier installation by OEMs, this driveshaft offers extended component life, as well as improved performance and vehicle dynamics with reduced noise, vibration and harshness levels, Slesinki says.