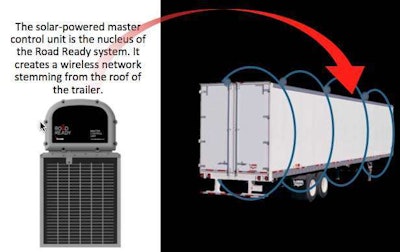 Truck-Lite debuted its telematics offering at the Technology and Maintenance Council's (TMC) Annual Meeting in Nashville, Tenn., Sunday with the Road Ready trailer monitoring and communication system.
Truck-Lite's Market and Product Development Manager Brett Jackson says Road Ready is "the most complete trailer telematics solution in the industry" and creates the industry's first "smart" trailer with a solar-powered Master Control Unit (MCU).
A quick-charging battery uses military-grade, thin-film solar power technology to keep charge for 60 days without sunlight.
"This will provide our system with power for 10-plus years … with 10-plus years of maintenance-free battery life as well," Jackson adds.
The MCU continually monitors and cellularly transmits crucial data from customizable Road Ready sensors to a user interface without requiring power from a tractor.
When wireless sensors installed in a fleet's trailers experience an "event" such as a faulty light or a drop in tire pressure, the sensors send that event data to the Master Control Unit (MCU) installed on the top of the trailer.
Event data from the MCU is collected and sent via cellular network to fleet headquarters where it can be accessed through the Road Ready user interface. Inside the Road Ready user interface, Jackson says users will be notified of the event data sent from the trailer's MCU and the user can use this data to resolve the trailer's issue and get it corrected.
"We're able to provide a fleet with a complete overview of their entire fleet," Jackson says.
The Road Ready system features a network of wireless, peel-and-stick sensors that communicate with the MCU, relaying tire pressure data; light-out detection; anti-lock brake system monitoring; unauthorized door openings; cargo fill/movement detection; temperature and auxiliary fuel levels for refrigerated trailers; trailer arrival and departure notifications and GPS with minute-to-minute tracking capabilities.
"Event-based data" is reported in real time to a desktop dashboard from an untethered control unit.
Jackson says the unit is expected to hit the market in June as a retro-fit, adding the company is also working with trailer manufacturers to make Road Ready available as a factory spec.