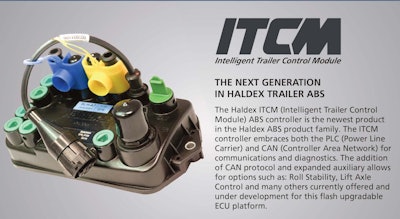 At the Technology and Maintenance Council's (TMC) Annual Meeting in Nashville, Tenn., on Sunday, Haldex introduced its Intelligent Trailer Control Module (ITCM), which expands the capability of trailer ABS systems to include faster communication and increased functionality.
Haldex Product Manager ABS/EBS Scott Walpole says the system uses standard Power Line Carrier (PLC) protocol to communicate ABS information between trailer and tractor and other devices.
Using PLC Protocol and Controller Area Network (CAN) Port – an ISO defined serial communication bus, ideal for applications requiring a large number of short messages with high reliability in rugged operating environments – the ITCM offers multiple auxiliary ports where additional devices can be connected, including Trailer Roll Stability Control like the Haldex Stability Module – a plug-in auxiliary device for rollover control and automatic braking; Trailer Lift Axle Control; Switch Control, which acts as an on/off switch to provide an action determined by pressures, temperature, power voltage and other inputs; and External System Monitoring, providing monitoring and reporting on non-Haldex systems such as tire pressure monitoring systems, and integration into the fleets GPS system.
Walpole says its expanded diagnostics offers several ways to communicate to retrieve codes, set up additional devices, track trailer brake activity and other data related inputs and outputs. The self-configurable and flash upgradeable ITCM ECU is compatible with 1M, 2M and 3M ABS configurations.
Haldex will begin selling the ITCM ABS configurations in the Spring, when it will also launch its Stability Module. Other devices and applications will be added as the market and fleets request further expansion.
ITCM will be available to all OEM Trailer Manufacturers and the traditional aftermarket distribution channels, Walpole says.