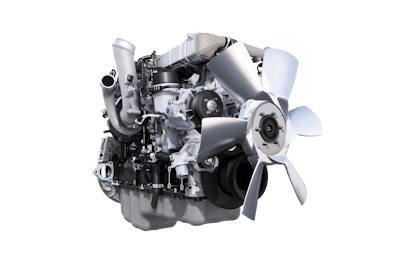 Navistar's joint venture announced last year with Volkswagen is expected to produce powertrain options in the years ahead, but for now the Lisle, Ill., truck maker is content to to tackle that work on its own.
The company on Monday at the Technology and Maintenance Council's Annual Meeting in Nashville launched its new 12.4-liter engine, the International A26 – the fruit of an initiative called Project Alpha, which brought together a new team of the industry's foremost powertrain engineers and emphasized simplicity over complexity.
"This engine is as simple as a modern diesel engine can be," adds Joao Silva, A26's chief engineer.
Lee Chan, Navistar's chief engineer for controls and software, says the team took a "clean slate approach," on the inline six cylinder engine, adding, "the collaborative one-team approach, I think, was critical for this product."
Using only proven components engineered to maximize uptime, the end result is the quietest, most efficient engine in International's on-highway lineup. At 2,299 pounds, the A26 is the lightest engine in its class and is 55 pounds lighter than the N13 engine it will replace in International's order book at the end of the year.

The team's lightweight design includes the use of a compacted graphite iron crankcase – a North American first for a Class 7-8 truck – shot peened aluminum flywheel housing, composite valve covers and a hollow assembled camshaft that features tool-grade steel lobes for added durability.
Built from the MAN D26 engine crankcase, the engine outputs up to 475 HP and 1750 lb.-ft. of torque.
A variable geometry turbocharger, which uses a titanium compressor wheel with a simplified single-stage design, simplifies the engines's air and cooling system and also boosts engine braking power by up to 67 percent. A new high-pressure fuel system helps boost fuel economy by upwards of 5 percent versus the N13.
The design team used extensive computer modeling and analysis to optimize the cylinder head's port flow geometry, reducing air restriction and helping the engine breathe more consistently from cylinder to cylinder for increased fuel efficiency. International, testing an LT Series truck spec'd with the A26, became the first OEM to exceed 8 mpg on a hilly test route in Kentucky.
"The way that the engine breathes through the intake system, through the turbocharger, through the cylinder head and then out through the turbocharger and out through the after treatment system really did help improve the efficiency," says Darren Gosbee, Navistar vice president of powertrain engineering, adding the routing of air and fuel also had a positive impact on engine noise and vibration. "By controlling combustion in a different way, we were actually able to take out the harshness of the combustion sound. It really does help improve the environment for the driver."
A sculpted crankcase and oil pan, which are isolated through a specially designed rubber gasket that absorbs vibration before it is amplified through the oil pan, helps reduce noise and a six-blade radiator fan features quieter operation. Sophisticated calibration and programming were also specifically designed to reduce engine noise.
The A26's gear teeth are produced using a grinding process that offers smoother, harder and quieter gear surfaces and the pistons are engineered with a low-friction skirt coating and advanced piston ring geometry to reduce parasitic losses while also enhancing fuel economy.
New water jacket geometry ensures that more coolant flows to the areas of the cylinder head that need it most, with 50 percent less restrictive flow that reduces parasitic loss to the water pump for better fuel economy. An oil cooler thermostat bypass allows oil to bypass the oil cooler in colder weather, which also improves fuel economy.
Larger piston pins, connecting rods and bushings help optimize load distribution and smaller piston cooling jets increase oil pressure to improve lubrication, which increases oil change intervals up to 70,000 miles.
A laser-welded, stainless steel, single stage EGR cooler is designed to deliver reliability and performance in a compact, easy to service package.
"This is an engine that was designed to be the best," Gosbee adds of the A26.
Production of the engine, which is 2017 Greenhouse Gas Certification pending, begins in April and is now available for order on International LT Series of long-haul tractors and RH Series of regional haul trucks. It features a two year, unlimited mile warranty.