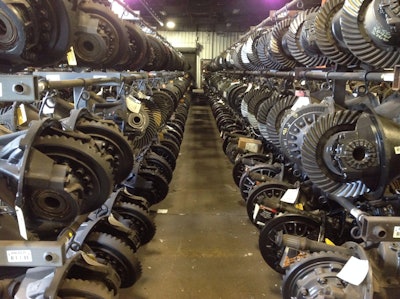 Downtime can be frustrating enough alone, but the lack of the right part at the right time only adds to the agony.
However, balancing a parts inventory can be tricky as managers are unable to tie up cash with parts on the shelf and are fearful of what sits there becoming obsolete.
"Fleets waste lots of time waiting around for parts," says Terry Livingston, senior director of strategic sales for Meritor aftermarket. "They want uptime – the right parts at the right time. They're not in the business of managing inventory."
Fortunately, suppliers are in the inventory management business and, in many cases, will handle this service for their customers.
Vendor Managed Inventory (VMI) transfers the burden of having the parts ready to the supplier, leaving fleet managers free to focus on overall uptime and leaving cash in the bank until its needed.
VIPAR's e-commerce portal brings a form of VMI to fleets of all sizes and locations by linking the fleet to local distributors using real-time information and inventories.
"It allows fleets to reduce their on-hand inventory so they're not tying up valuable resources on product on the shelf," says Jim Pennig, vice president of business development for VIPAR. "They're able to either hop online or fax or call, identify what products they need – more than likely pricing has already been communicated … and through the e-commerce side we are putting together invoicing, capturing the pricing and providing deep reporting back to the individual locations. When they ID the product they need, a drop down window prompts the customer to the local [VIPAR] distributors," he says. "The next step is either a phone call, or they can actually push a button and that order would go directly to that distributor."
Municipal fleets have become some of the most ardent supporters of VMI, but Livingston notes the opportunity for trucking to reap similar benefits is ripe.
"[With VMI] we see a 25 percent increase in inventory turn," Livingston says. "That means inventory is up and turning. It's not sitting there and it's not dead. It also means they are consuming the parts. The technician is not waiting and the truck is up and running. It allows them to have high fill rates when they want it."
In building a VMI program, Livingston says a fleet would work directly with its supplier partners to establish the parameters of the relationship.
"That would include analysis of the inventory the fleet is using," he says. "Quick moving items would be on the shelves at the fleet. Once the part is picked, a backup of that inventory is sitting at the distributor and delivered to the fleet to replace it."
Parts replenishment is automatic unless the fleet recognizes an oncoming uptick in workflow or a change in parts usage. In that case, they would simply notify the supplier who would adjust delivery.
"Data is what's going to help drive the business and the intelligence behind it," Livingston says.
On a large regional scale or with a national fleet, Pennig says fleets should look for a distributor that mirrors their maintenance locations and has the technical infrastructure to support some form of VMI.
If you're looking to actually have a distributor manage parts procurement for you, Pennig says many will work directly with fleets to develop an inventory replenishment cycle, but he adds that a customized program should be worked out between the fleet and the distributor.
"So there's no surprises with orders or pricing," he says. "All of that needs to be worked out up front."
As you work to implement a VMI program, Livingston suggests starting small with things you can predict and then grow from there with consumables. Brakes are an easy stepping stone into VMI, Livingston says, because they are a recurring wearable part.
"In other words, you will always need brakes eventually. If you're looking at something that costs more, that can be a little more difficult," he says. "If done correctly, a VMI program at a fleet will reduce administrative time because you'll have an outside person as your purchasing agent because you've already pre-negotiated what you're going to buy."