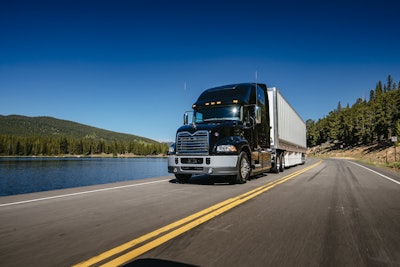 Mack Trucks announced the availability of its Mack Over The Air (OTA) software updates for upcoming 2018 model-year Mack models equipped with GuardDog Connect telematics hardware and 2017 Mack engines. The new service will allow OTA programing for powertrain components and certain vehicle parameters as duty cycles change based on geographic area and load types.
"Mack Over The Air represents the next step in Mack's industry-leading approach to uptime," said David Pardue, vice president of connected vehicles and uptime services for Mack Trucks during a press conference at the 2017 Technology & Maintenance Council Annual Meeting and Transportation Technoloy Exhibition in Nashville. "Our customers can now make these updates whenever and wherever it is convenient for them."
The new OTA programming feature enhances the company's GuardDog Connect platform that provides proactive monitoring and repair planning, enabling real-time diagnosis of issues, scheduling of repairs and confirmation that needed parts are in stock and ready to install.
In addition, Mack and telematics partner Telogis announced a free 30-day trial offer of Mack Fleet Management Services with Telogis Fleet. The service uses proprietary data from the factory-installed GuardDog Connect telematics hardware and provides vehicle tracking and history, real-time alerts, driver safety reports and more.
The trial offer is available for up to 10 trucks per customer for those with 2014 and later Mack models equipped with MP engines and GuardDog Connect hardware. Customers may sign up for the trial through June 30, 2017. No additional hardware is required, and activation is completed over the air.
"Maximizing uptime while helping to improve driver safety and performance has become a mission-critical component for any successful fleet," said Amy Hart Phillips, vice president, OEM business at Telogis. "The 30-day trial is the easiest way for any Mack customer with a connected truck to experience the transformative effects Telogis Fleet for Mack can have."