Stoughton Trailers at the Technology and Maintenance Council's Annual Meeting in Nashville, Tenn., Tuesday debuted several new design features for its Z-Plate and Aluminum Sheet & Post trailers.
Stoughton president Bob Wahlin says the company redesigned its dry van components to reduce maintenance, improve durability, increase interior space and provide more standardization so they are interchangeable between Z-Plate and the Aluminum Sheet & Post trailers.
Moving to standard components and parts allows for smaller parts inventory and provides more streamlined repair and maintenance flow.
A new top rail design allows for the side-wall sheet to extend up behind the lower portion of the top rail to improve water shedding. By eliminating drilling holes in the top rail, Gary Fenton, vice president of engineering at Stouhgton, says water tightness has been improved.
Roof bows are now connected using a T-bolt and slot design, which allows replacement roof bows to be installed entirely on the inside of the trailer. This reduces installation time and the need for exterior scaffolding.
The roof bow is pushed up into position, making the replacement process cleaner and there is no caulk smearing, which occurs on trailers where roof bows have to rotate up over a flange.
Dry van corner posts and top corner castings now feature interchangeable common corner components, which reduces the number of parts needed for trailer repair. The new design also increases the Sheet & Post corner panel to .125 inch from its original .050-inch thickness. The casting profile overlaps with the top rail to provide improved fit and better water shed. The new corner posts create a square interior corner, allowing full-width cargo placement to extend to the front lining.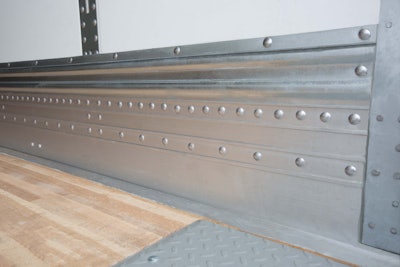 Stoughton's new Z-Plate lower rail design is 3 and a half inches taller, allowing rivets to be placed 3 and a half inches higher, which moves the rivets away from the scrape zone.
A new aluminum side rail and scuff combination has been increased to a full foot in height. The scuff prevents damage from loading and unloading with no exposed attachments that loads can snag or tear out.
Additionally, Stoughton's newly designed rear impact guard, which provides improved underride protection over the full width of the rear end of a trailer without added weight to the trailer and at no additional cost to the customer, is now a standard feature on all Stoughton dry van trailers. The improved underride guard is also available as a retrofit for trailers that are 10 years old or newer.
Following testing for the remainder of the year, Fenton says Stoughton will make available a refrigerated trailer. The company expects to begin taking orders toward the end of the calendar year.