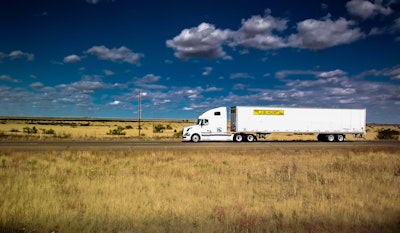 J.B. Hunt Transport Services has chosen Orbcomm, a global provider of machine-to-machine and Internet of Things communication systems, to equip its 90,000-plus intermodal and over-the-road (OTR) trailing fleets with end-to-end tracking and monitoring.
Orbcomm will provide J.B. Hunt a telematics system that gives visibility to the location and status for multiple classes of trailing equipment. Each unit will be equipped with a solar-rechargeable GPS tracking device and a full-length sensor to determine the presence or absence of cargo inside the trailing unit.
The companies say the system will increase operational efficiency, reduce cargo theft, and decrease unauthorized use of assets.
"We've already identified numerous areas within our operation where we will see immediate benefits in efficiency," said Terry Matthews, executive vice president and president of J.B. Hunt's intermodal division. "End-to-end visibility to the entire supply chain is the new expectation, and as a technology leader in the industry, we are excited to provide this service to our customers."
The integration of real-time location and cargo status information into J.B. Hunt 360, the company's transportation management system, will help drive out operational inefficiencies while maximizing customer visibility into the life cycle of their orders.
J.B. Hunt will begin deploying the technology across their fleet throughout 2017.