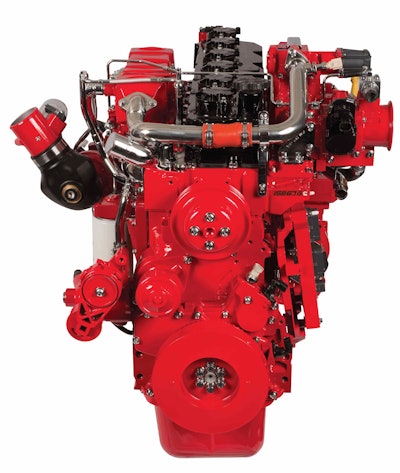 Cummins announced Tuesday at the Work Truck Show in Indianapolis several improvements to its lineup of midrange engines for the 2017 model year.
Jeff Caldwell, Executive Director of North American Truck OEMs, says the company's market-leading B6.7 is seeing an average improvement that exceeds the program's 7 percent initial target.
"Today's 6.7 is the B Series' most efficient engine to-date," Caldwell says, noting the engine's Efficiency Rating jumped 8.5 percent and Performance Rating boosted 5 percent over the EPA 2013 ISB6.7.
For some applications and duty cycles, specifically pickup and delivery, Caldwell says the Efficiency Ratings have shown up to a 13 percent fuel economy improvement over the EPA 2013 ISB6.7.
"As the program progressed," he says, "we found opportunities to tune and optimize the engine, delivering further efficiency, and allowing us to surpass initial expectations."
Apart from base engine fuel economy enhancements, Cummins features a Stop-Start capability with the B6.7, which Caldwell says provides additional fuel economy improvement ­from 3 to 15 percent. Stop-Start technology allows the engine to operate only when necessary by shutting off the engine during idle, which reduces fuel consumption and increases durability.
"There are so many applications out there that are doing this technology and ours is like that," Caldwell says. "The drivers are going to like the feel and they're going to see the results."
For 2017, the B6.7 also includes a complete 3-year/unlimited-mile warranty in truck applications.
Cummins Westport natural gas engines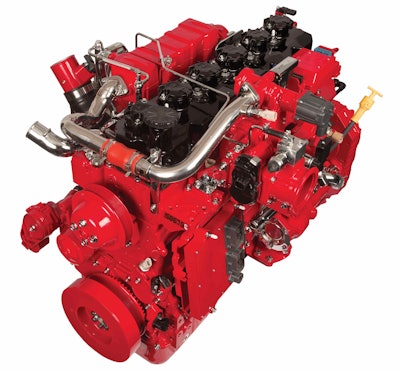 Cummins Westport President Rob Neitzke also announced Tuesday that full production of the company's ISB6.7 G and ISL G Near Zero engines is underway.
The ISL G Near Zero is the first midrange engine in North America to receive emissions certification from both the EPA and Air Resources Board (ARB) to meet the optional 0.02 g/bhp-hr Near Zero oxides of nitrogen (NOx) emissions standards.
The NOx emissions of the ISL G Near Zero are 90 percent lower than the 2010 EPA standard of 0.2 g/bhp-hr.
The reduction of NOx from the ISL G engine was aided by the addition of a closed crankcase ventilation system, a slightly larger three-way catalyst and combustion software enhancements, Neitzke says.
"Based on the reliability and operating improvements of the base ISL G engine, the ISL G Near Zero is a game-changer," Neitzke says, adding the engine offers performance with the lowest emissions at a lower cost than battery electric-vehicles.
The ISB6.7 G features an emission rating of .01 g/bhp-hr – 50 percent below the minimum standard, but Neitzke says work is ongoing for near-zero certification.
Both engines operate exclusively on compressed natural gas (CNG), liquefied natural gas (LNG) or renewable natural gas (RNG), using proprietary spark-ignited stoichiometric combustion with cooled exhaust gas recirculation (SEGR) technology.