CCJ's Indicators rounds up the latest reports on trucking business indicators on rates, freight, equipment, the economy and more.
---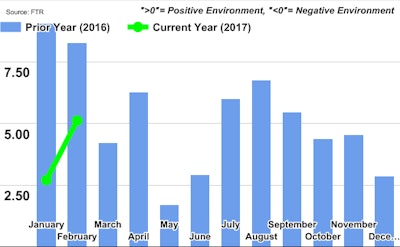 Trucking Conditions Index points to positive momentum for carriers: Market conditions for carriers saw positive momentum in February, according to the latest Trucking Conditions Index, produced monthly by FTR.
FTR says it predicts the index to continue to climb during the year, reflecting tighter capacity for the trucking industry and, thus, potential for rate growth. However, FTR does not expect contract rates to grow much for "at least six months," it notes.
"The economic outlook has solidified for 2017, and freight growth is expected to accelerate versus what we saw in 2015 and 2016. While we have reduced our assumptions of productivity hits to truck fleets and drivers from the regulatory environment, the acceleration of freight growth is enough to keep utilization rates high, and climbing, during 2017," says FTR's Jonathan Starks. "The downside is that the rate environment remains slow to pick up. Contract rates will begin to show year-over-year gains by the time Q2 hits, but any real acceleration isn't likely to occur until the end of the year. Spot rates have begun moving upward, but are only a couple of percentage points above prior year levels."
---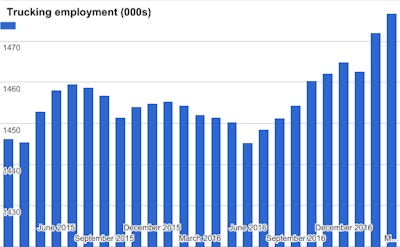 Trucking employment up again: The for-hire trucking industry added 4,700 jobs on a seasonally adjusted basis in March, according to the Department of Labor. The gain follows a big boost in February, in which the industry added nearly 10,000 jobs.
Overall, trucking's employment additions were part of a lackluster month for national employment, with the U.S. economy adding just 98,000 jobs, according to the Labor Department's monthly report.
For-hire trucking employment now totals 1.4768 million, per the DOL. That's an increase of nearly 25,000 jobs compared to the same month last year.
The construction industry in March added 6,000 jobs, while manufacturing gained 11,000 jobs.
The transportation, trade and utilities sector — the umbrella group for truck transportation jobs — lost 27,000 jobs in March.