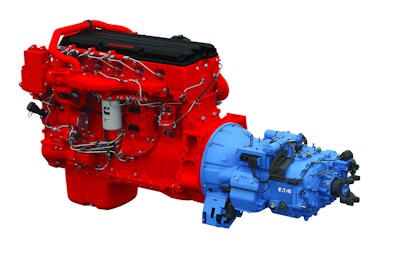 Eaton and Cummins announced Monday the formation of a joint-venture designed to produce automated transmissions for heavy- and medium-duty commercial trucks later this year.
Cummins and Eaton will each own 50 percent of Eaton Cummins Automated Transmission Technologies, a global partnership that will launch in North America. Cummins will consolidate joint venture results as part of its components business segment and, under the terms of the agreement, Eaton will receive $600 million in cash from the engine maker for its share in the deal.
Cummins Chairman and CEO Tom Linebarger says the partnership will deliver advanced automated transmissions while also developing an integrated powertrain and service network.
Cummins and Eaton have been partners for decades but Ed Pence, vice president and general manager of Cummins' high horsepower engine business, says the joint venture will accelerate both companies' ability to expand their global footprints by combining Eaton and Cummins engineering and technological expertise.
Ken Davis, president of Eaton Vehicle Group, called the partnership "a major step in the future of our transmission business."
Pence says the goal of the partnership is to produce transmissions for a variety of engine platforms, and will not be limited to integration with Cummins engines.
Eaton's current medium-duty automated transmission, Procision, and next generation heavy-duty automated transmissions, will be part of the joint venture. In addition, the joint venture will market, sell and support Eaton's current generation of automated heavy-duty transmissions to OEM customers in North America.
All units will continue to be serviced via Eaton's Road Ranger program, Davis says.
Eaton's Vehicle Group will retain its global manual transmission business, global clutch business, current generation medium-duty and heavy-duty automated transmission business outside of North America, global aftermarket business, light-duty transmission business, agricultural transmission business, and global automotive business and associated product lines.