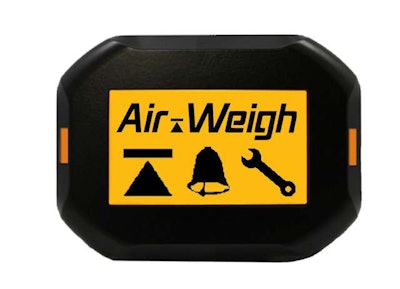 Air-Weigh has a new LoadMaxx Trailer Scale that it says combines the best of previous LoadMaxx and Quickload trailer scales.
The new product comes with two options: LoadMaxx base model and LoadMaxx with ComLink.
The updated LoadMaxx scale includes an icon-based touch screen display, built-in LED alarm lights, dual-point calibration and high precision pressure sensor for weight accuracy.
Other new features compensate for temperature and altitude change, add PIN-protected calibration, and language options for English, Spanish and French.
"In our ongoing effort to optimize fleet efficiency, the new LoadMaxx trailer scale has evolved to offer the best of our previous trailer scales, as well as important new features," says Martin Ambros, chief executive officer of Air-Weigh. "Our goal for fleets is to maximize the payload they haul, and minimize the complexity and effort in their operations."
The ComLink option now available for the LoadMaxx trailer scale lets drivers view steer, drive, trailer, GVW, and net payload on an in-cab LoadMaxx tractor display. Tractor/trailer weight information can also be sent to the fleet's management software via the built-in data communication interface. When used with the Bluetooth compatible LoadMaxx Tractor Scale, weight data is also available on any Smartphone or tablet through Air-Weigh's LoadMaxx App.